WTI Crude Oil Price Presses Against 2021 Highs
Crude oil price remains bullish. It threatens to make a new high for the year, as the series of lower highs suggest more upside is possible. OPEC's World Oil Outlook 2021 report forecasts that oil will remain dominant in the global energy mix until 2045.
Oil rallied last year from negative territory to $50 in what might be the most stunning recovery of all times. Never before had oil traded into negative territory, but the supply and demand balance was severely affected by the coronavirus pandemic.
The bounce was equally strong, and the oil market rally continued into 2021. The WTI crude oil price made a high for the year at $77, and now it threatens to make a new one.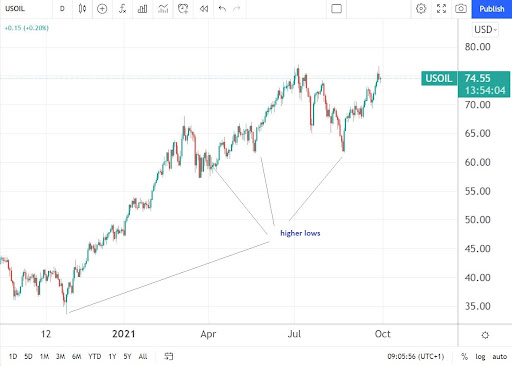 Oil to Keep the Largest Share of the Global Energy Mix
One of the much-awaited reports in the oil industry is the World Oil Outlook released by OPEC – Organisation of Petroleum Exporting Countries. The 2021 report was released earlier this week and reveals that OPEC expects oil to keep its dominant share in the global energy mix until 2045.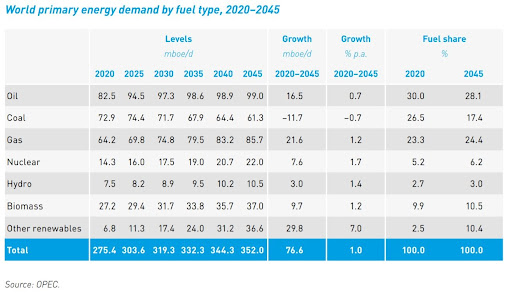 Moreover, global oil demand is expected to rise by 17.6 million barrels per day between 2020 and 2045. It will reach a level of 104.4 million barrels per day in 2026, suggesting strong demand in the years ahead.
But, will the strong demand be met by an increase in supply? This is the big question for the oil traders in the years ahead. If we add this to the disruptions caused by the COVID-19 pandemic, which are likely to stay in place for longer, conditions for the price of oil remain bullish.