Will WTI Crude Oil Price Pass $100 By the End of 2021?
The WTI crude oil price is on a tear higher. Energy prices surge across the board, triggering spikes in inflation. A growing number of traders bet that the WTI crude oil price will exceed $100 a barrel as early as December.
Oil prices are on a tear higher this year. From the 2020 dip into negative territory, the oil prices bounced remarkably. For example, the WTI crude oil price trades above $80, and the bias remains bullish.
Is it possible to see $100 a barrel by the end of 2021? It surely is, at least if we judge by the bets in the options market. A growing number of traders bet that the WTI crude oil price will trade above $100 by December and, some other ones, that the Brent oil price will exceed $200 by December 2022.
If any of these bets turn out to be true, the energy crisis we've seen in 2021 will continue unabated in 2022. While traders use options to hedge a portfolio, the number of contracts betting for higher oil prices is set to keep growing.
Oil has an important role in the energy mix, and higher oil prices fuel inflation. Also, they may also impact companies in industries heavily dependent on oil products, such as the airline industry.
More than 150,000 oil options changed hands in October alone, with the $100 call being the most popular bet. A call option gives the trader the right, but not the obligation, to buy or sell, and when buying call options, investors benefit if the price of oil rises.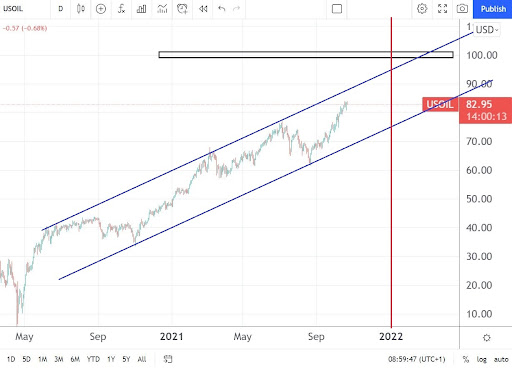 How Does the Technical Picture Look Like?
The technical picture looks bullish too. The price of oil remains in a bullish trend, and in order to reach $100 by December 2021, it needs to push against dynamic resistance given by the upper edge of the rising channel.