Will the European Gas Prices Surge Be Fully Passed on to Consumers?
Gas and electricity prices make about 5% of the euro-area HICP basket. If they are fully passed on to consumers, they will boost inflation even more. But why are gas prices so high in the first place?
The COVID-19 pandemic brought the world's economies to their knees. With the world literally shutting down in 2020, the economic reality as we knew it ended abruptly. Globalisation seems like a thing of the past.
Economies are struggling to recover and facing a challenge not known before – supply disruptions. From semiconductors to the workforce, everything is in demand, especially commodities.
Gas and electricity prices in Europe, in particular, have risen spectacularly. Both compose about 5% of the HICP (harmonised index of consumer prices), the metric used by the European Central Bank to measure inflation. If they are fully passed on to consumers, then inflation is poised to rise more than the central bank's forecast, affecting its monetary policy decisions and, thus, the value of the euro.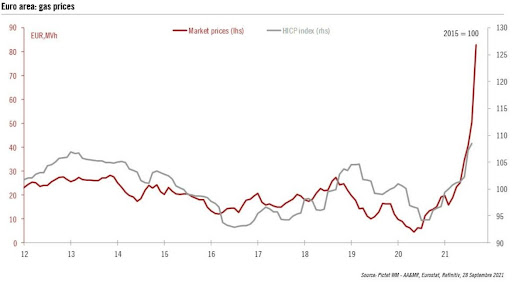 Why Are Gas Prices So High?
At first, the spike in gas prices did not attract many discussions, but it is worsening and becoming a global phenomenon. It is especially worrying in Europe and the Northern hemisphere, as winter is just around the corner.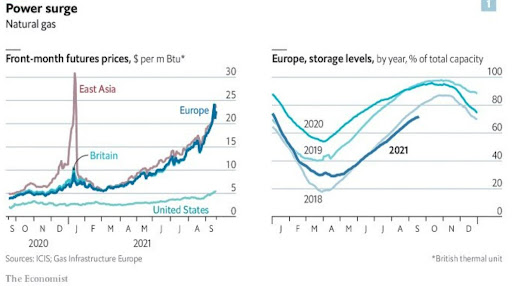 Three factors caused the surge in European energy prices. One comes from Russia, as it supplies less natural gas than usual. Another comes from strong demand from Asia. Finally, Europe is letting stocks go down.
Combined, the three have led to the spike in the gas prices we've seen lately, and the danger is that the rise will keep going. In addition, shipping freight costs surge, and containers' availability adds further pressure on the prices.
At this rate, inflation cannot and will not remain unchanged unless the gas and electricity prices rise, offset by a decline in other categories of products part of the HICP basket.