Will the Current Market Sell-Off Force Fed's Hand?
A Chinese real estate company, Evergrande, is on the verge of collapse, and this news triggered a correction in international equity markets. The S&P 500 dropped, fueling a rally in the safe-haven currencies. The Fed's plans are unlikely to be derailed.
Developments in China where a real estate company, Evergrande, is facing bankruptcy have led to a correction in the leading European and American stock market indices. Fears of contagion affected investors' appetite, so they began dumping stocks and favouring safe-haven assets, such as safe-haven currencies (e.g., Swiss franc, Japanese yen).
Coincidence or not, the stock market sell-off came only days ahead of, perhaps, the most important Fed's meeting in the second half of the year. The Federal Reserve is expected to announce the tapering of its bond-buying program starting from December or even November this year.
Can the recent market sell-off force the Fed to change its plans? Unlikely.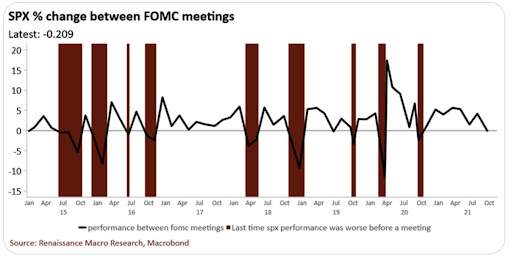 Fed to Stick to the Plan
For many market participants, the events out of China triggered cautionary reactions. But the equity market sell-off should not alter the Fed's tapering plans as the S&P 500 index has been basically flat since the July 2021 meeting. The last time when China was the source of concern for the United States markets, back in 2015-2016, the U.S. indices decline was far more aggressive and pronounced.
Then, there is the U.S. economy. The retail sales indicator for August surprised to the upside, showing the resilience of the U.S. consumer and triggering an immediate upgrade of the economic growth in the second half of the year.
Investors should not be surprised if the Fed stays on track. Corrections in the stock market are normal, and the Fed cannot and should not intervene at every market sell-off.
The bias, therefore, is that the U.S. dollar will benefit from the Fed's decision to stay on track, and the latest economic data suggests more strength may lie ahead.