Why Are Markets Afraid of Tapering?
The Federal Reserve of the United States (Fed) prepares to taper its asset purchases and make the official announcement in November. The September NFP report gave the green light.
The major concern for financial markets in the last months is the monetary stimulus removal from the Fed. In response to the COVID-19 pandemic and subsequent economic recession, the Fed slashed the rates close to zero and started buying U.S. government and corporate bonds. Effectively, it paid for the debt with newly created money, a process dubbed quantitative easing.
When the economic conditions improve, the Fed stops buying bonds gradually. This process is called tapering, and the markets are familiar with it, as the taper tantrum in 2013 led to major declines.
But what were those declines in the long run? As it turned out, they were merely small corrections in an otherwise bullish trend.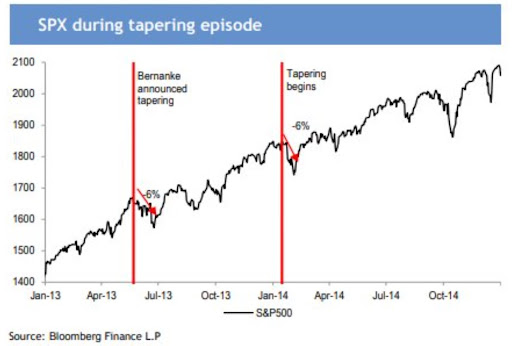 The Year 2013 Taper Tantrum Failed to Break the Bullish Trend
If history offers any guidance, we should look at similar situations in the past and see how the market reacted. The last time when the Fed announced the tapering of its bond-buying program, the S&P 500 index merely declined by 6%. From the moment the tapering was announced until the tapering actually began, the market actually traded higher.
The start of the tapering brought another 6% decline, but yet again, the market reversed and made new highs. So why the fear this time?
During the last Fed meeting, the Fed Chair said that all they need is a decent jobs report. Last Friday's NFP report, while missing the expectations, did reveal major improvements in the unemployment rate, down from 5.1% to 4.8%. Thus, the Fed has a green light to announce the tapering in November.
Will the official announcement trigger another 6% decline? Or were the Fed's communication efforts enough to avoid such a correction?