Who Trades the Cryptocurrency Market?
The cryptocurrency market's popularity increases by the day. Nowadays, the combined market capitalisation has reached $1.6 trillion.
Almost 12,000 cryptocurrencies are listed on a regular crypto exchange – double the number from a year ago. Over 100 million digital wallets hold them, and they are not retail traders only.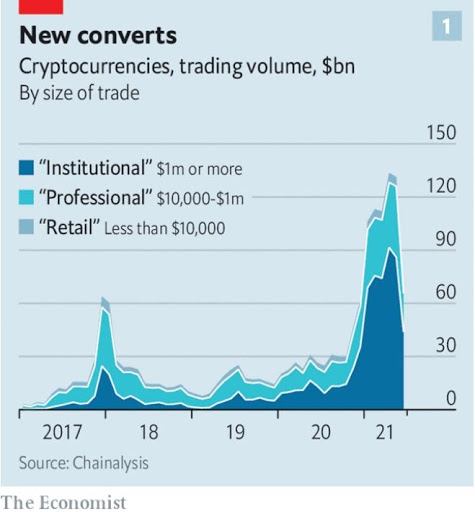 In fact, retail trading on the crypto exchanges represents just a small portion of the regular volume. Retailers, instead, turned out to be long-term investors, hoping to benefit from the "inevitable" rise in price.
Instead, the cryptocurrency market became more and more complex by the day. It attracted institutional investors and professional traders that use sophisticated trading strategies and instruments to profit from its volatility.
Although volatility has declined recently, there is something for everyone, from investors to traders and speculators. Institutions account now for over 60% of trading, three times more than four years ago. Most transactions take place via algorithmic trading and derivatives.
Algorithmic trading refers to the opening and closing of market positions automatically, using robots or expert advisors. The software is programmed to open and close a position based on the price reaching certain levels. Technical analysis sits at the heart of algorithmic trading.
Derivatives allow traders to leverage. Leveraging refers to trading a position bigger than the deposited funds by using borrowed funds. The bigger the leverage, the bigger the risk, and over 90% of the money invested in Bitcoin is spent on derivatives.
The preferred way so far was to try making the most of the proverbial volatility in the cryptocurrency market. Perpetual swaps do not expire and are based on price fluctuations. Just a small change in price may lead to huge swings in a trading account, big enough to trigger a margin call or to result in hefty gains.
The popularity of derivatives to trade the cryptocurrency market confirms the institutional interest. While the market capitalisation keeps rising, the more leverage is used, the bigger the risk of a sharp correction.