What to Expect from the Bank of Canada's Monetary Policy Report
The Bank of Canada (BOC) is expected to further taper its asset purchases to C$1 billion per week. The market already prices in a rate hike in 2022, and the quantitative easing program is set to end in December.
The Bank of Canada is the first central bank to release its monetary policy statement this week. The market expects the bank to further reduce its asset purchases to C$1 billion/week and to end the tapering by the end of the year. No rate hike is expected today, but the rhetoric alone is enough to move the Canadian dollar.
Speaking of the Canadian dollar, it outperformed its peers in 2021. For example, it is trading higher against the U.S. dollar and the euro, as the rise in energy prices helped the energy-intensive Canadian economy.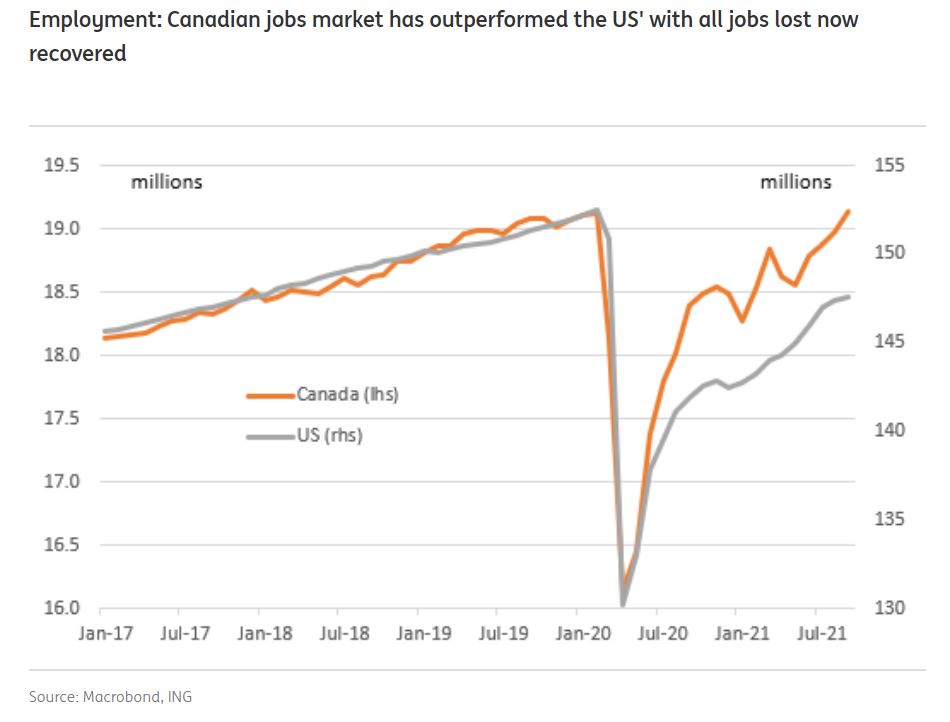 Bank of Canada to Acknowledge the Improvements in the Labor Market
All jobs lost in Canada due to the COVID-19 pandemic have been recovered by now. The rate is even faster than the one in the United States, and the difference also explains the strength of the Canadian dollar against the U.S dollar seen in the last months. The pair dropped from close to 1.30 to trade now around 1.23, as the Bank of Canada was the first major central bank to start tapering the asset purchases program.
While the economy continued to strengthen, traders started to price in rate hikes. Based on the forward guidance provided by the central bank, the market has now fully priced in a rate hike in April 2022. If the price of oil remains at the current elevated levels or even rises some more, the Canadian dollar's strength is poised to continue.