Western Economies Facing a Structural Shift in Inflation Trends
Higher inflation in advanced economies is likely to stay in place as long as supply chain bottlenecks exist. The Core PCE price index in the United States is expected to rise by 0.3%.
For the first time in decades, inflationary risks are larger than deflationary ones. Despite major central banks trying to reassure markets that inflation is transitory, some evidence emerges that things are different.
Prior to the COVID-19 pandemic, deflation gripped the Western economies. From the Eurozone to Japan, the United Kingdom to Australia, and Canada to New Zealand, central banks had a hard time creating inflation close to their target.
Not anymore.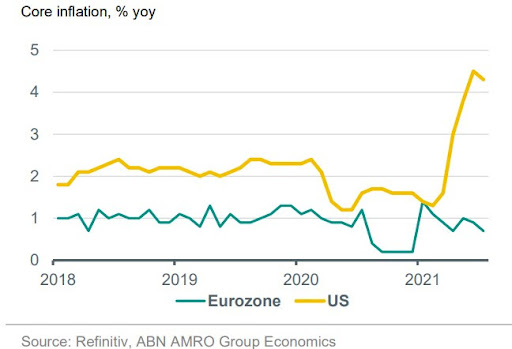 Distressed supply chains suggest that it may be years ahead until things come back to normal. In China, the COVID-19 outbreak led to the closing of two major ports this summer – Ningbo-Zhoushan and Dalian. While the names may not say much, Ningbo-Zhoushan is the third-busiest port in the world. The closing led to a surge in the freight rates, as measured by WCI Shanghai to Los Angeles container freight benchmark rate – it nearly tripled in the course of a year.
All Eyes on the Core PCE Price Index
Bailouts provided to economic sectors and households were the norm during the pandemic. However, no other developed economy surpassed the fiscal and monetary stimulus in the United States.
As such, some interesting developments appeared on the core inflation front. A quick comparison of the core inflation data in the U.S. with the Eurozone in the past three years reveals similar trends until the pandemic started. At that point, the U.S. core inflation surged, while inflation in the Eurozone increased, but not as much.
These are the two largest economies in the world, and it becomes obvious that inflationary risks outpace deflationary ones for the first time in many decades. Central banks struggled to create inflation, but now they will likely focus on how to bring it back below 2%.
Central banks are in no hurry, though. Nor are they worried if we are to interpret the latest statements trying to reassure market participants that inflation is transitory.
Until supply chain bottlenecks cease to exist, inflationary risks will continue to mount. More importantly, the pandemic is not over.
The core PCE price index for July is expected to be released later today. While the market is mostly focusing on what the Fed's Chair will say at the Jackson Hole Symposium later in the trading day, this is an important piece of economic data worthy of any trader's attention. For July, core inflation is expected to show an increase of 0.3%.