US Economic Growth Fueled by the Non-Manufacturing ISM Services Index Reaching a Record High
US employment has jumped into expansionary territory with the ISM Services index for the non-manufacturing sector reaching a record 64.1 in July.
Two events are on every trader's schedule during non-farm payrolls (NFP) week. One is the ADP National Employment Report that may move markets if the private sector does not add as many jobs as expected. Another is the set of Institute for Supply Management (ISM) releases that include the Services PMI, which is important because services have a big impact on US GDP.
Strong Momentum for the US Economy
The July ISM Non-Manufacturing report reached a record 64.1, suggesting that the strong momentum behind the US economic growth will continue in the months ahead.
In particular, traders focused on the employment component. It reached 53.8, higher than the 49.3 figure in June. Since a number bigger than 50 indicates expansion, this means more jobs were created in July. Ahead of the NFP report due out tomorrow, the bias is that the US economy added more jobs than the expected 870,000 in July.
Prices paid rose further, reaching 82.3, which suggests that the inflation rate will keep going up as price pressures remain.
A general look over the report shows that all components are growing or increasing, with only inventories contracting. The contraction in inventories also indicates further economic growth, as it means that the economy is not producing fast enough to cope with the demand.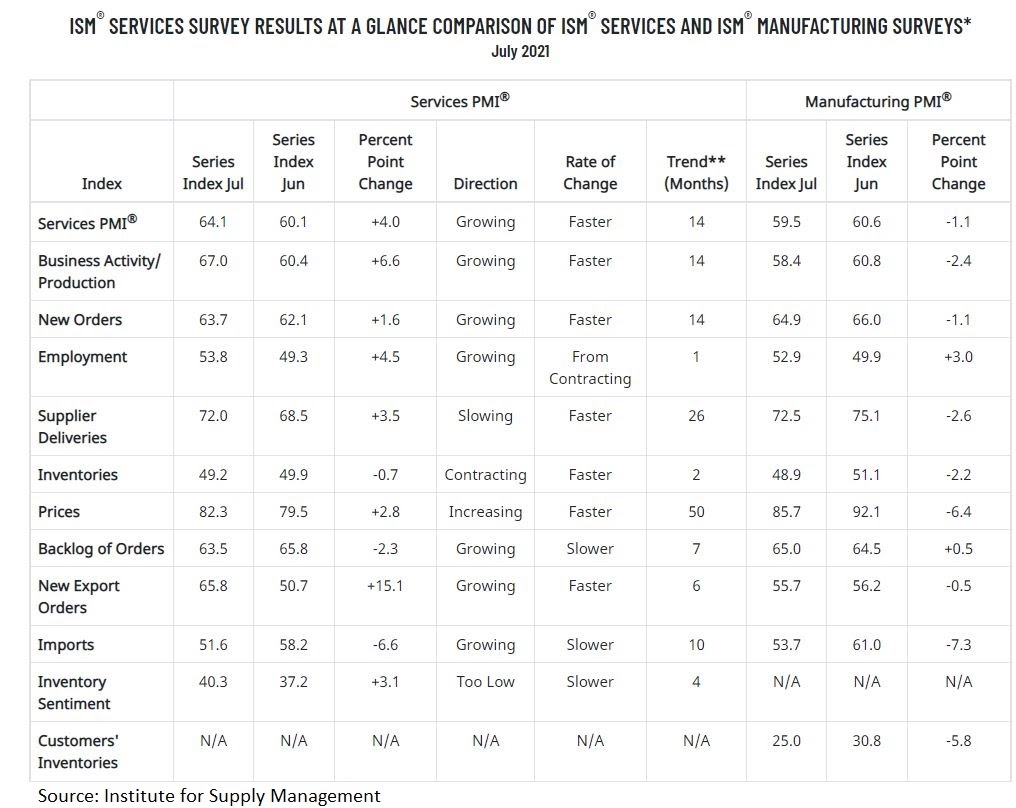 All in all, it's a positive report, showing an economy that is growing at a faster pace than initially thought. The report suggests stronger jobs data that supports the US equity markets and has driven the dollar higher as better than expected data pushes the Fed towards tapering its asset purchases.