US Dollar Bears Hit Hard By Clarida's Clarification on Asset Purchase Tapering
Vice Chair of the Federal Reserve, Richard Clarida, sent the US dollar higher with his speech that left no doubt about the Fed's intention to taper asset purchases this year.
One of the most important events this week was Clarida's speech at the Peterson Institute for International Economics. He reiterated the Fed's intention to taper its asset purchases this year, which means that the central bank will buy fewer government bonds, thus slowing down the loose monetary policy.
The US dollar rallied as a result, with the "greenback" reversing sharply from its lows. For example, the EUR/USD pair traded at 1.19 before the speech before dropping like a rock toward 1.18 soon after. Similar moves were seen across all US dollar pairs.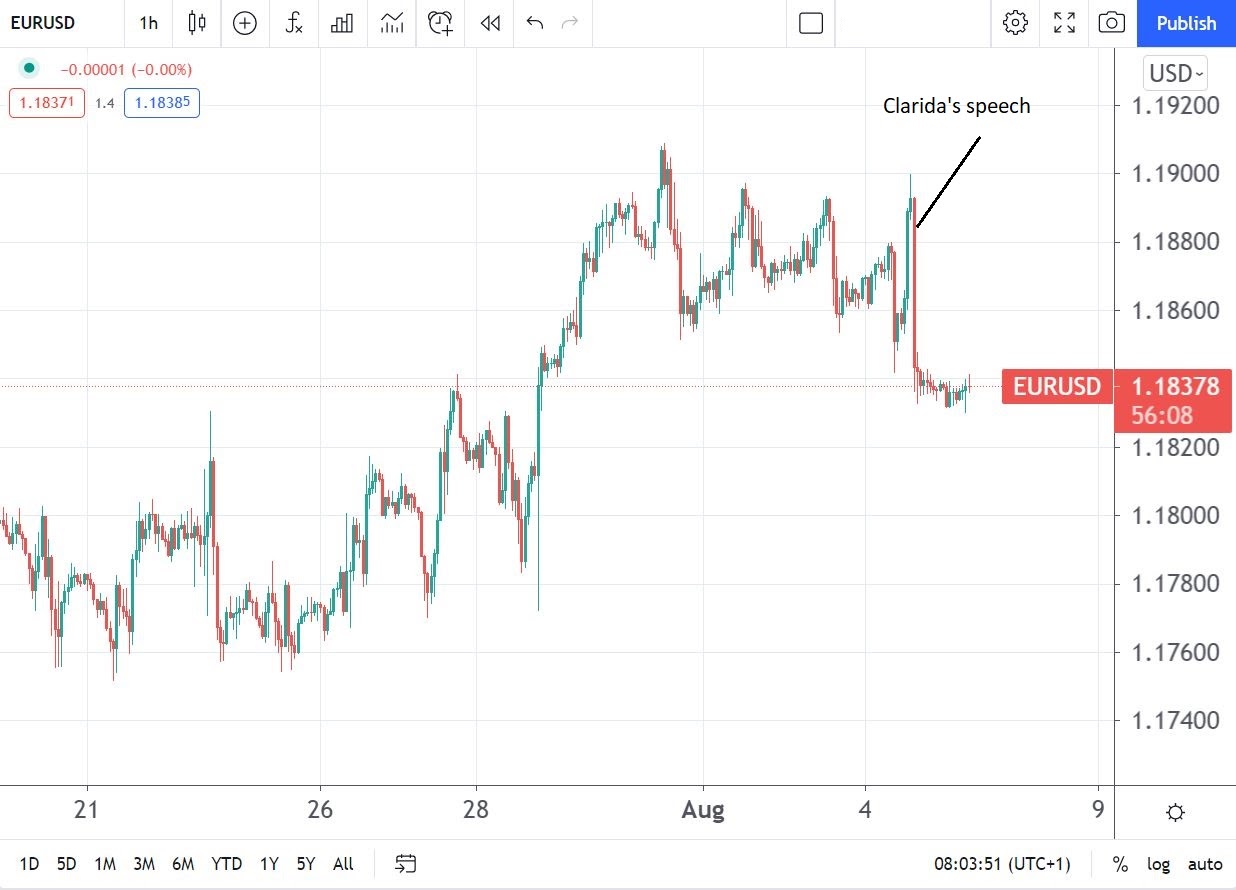 What Did Clarida Say?
August is known among traders for two things: low volatility and the Jackson Hole Symposium. If anything else moves the currency market, it is worth paying attention to.
Clarida's speech left no shadow of a doubt that he would support the announcement of moderation in asset purchases later in 2021. Moreover, he noted that policy normalization would likely commence in 2023. Simply put, the Fed is preparing to raise the federal funds rate at that time but the market was positioned for a later date. Therefore, the US dollar rallied on the news.
The rally was aggressive because only an hour or so earlier, the ADP employment (or private payrolls) missed expectations. Investors sold the greenback on the back of that news, thinking that the Fed will postpone the tapering on weaker employment data, but Clarida put paid to that hypothesis.
The US Treasury yield bounced off the lows, further supporting the dollar rally. Furthermore, the ISM Non-Manufacturing rose to 64.1, fueling the dollar's rally even more.
All in all, yesterday was a good day for the US dollar. Should the non-farm payrolls (NFP) report be better than expected, the rally could continue.