U.S. Retail Sales Miss Expectations, Stocks Decline
July U.S. retail data came out much weaker than expected. The main stock market indices declined as the U.S. dollar gained across the board.
The retail sales report is one of the most relevant pieces of economic data released monthly. It shows the health of the consumer, a vital part of the economic engine.
When retail data differs from the expectations, it impacts both the currency and the equity markets. This time, the July U.S. retail sales declined by -1.1% vs. the expected -0.2%.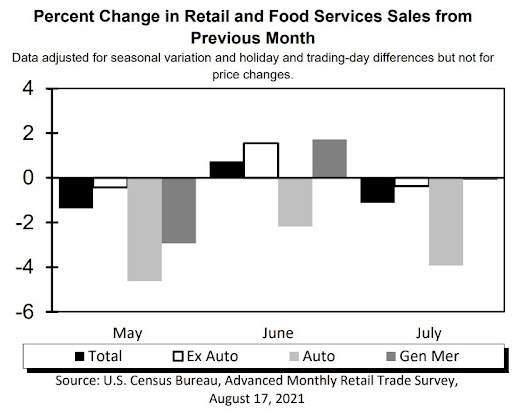 Even the core retail sales declined by -0.4% vs. the expected +0.2%. The core data excludes automobiles sales, seen as too volatile and potentially disrupting the report.
This is more than interesting because automobile prices shoot up during the pandemic. Inflation has been up in recent months mostly due to increased demand for automobiles, so used cars prices went through the roof.
It suggests that inflation will ease in the period ahead. The news triggered a move lower in the main U.S. stock market indices. The Dow Jones index, for instance, opened lower and then extended its fall to over 1% after the weak retail data.
Motor Vehicles Sales Declined the Most
A breakdown of yesterday's report suggests that the U.S. economy is cooling off a bit. The sale of motor vehicles and parts declined by 3.9% this month. E-commerce sales and clothing sales declined, too, by 3.1%, respectively 2.6%.
On the other hand, eating and drinking sales grew by 1.7%, following a 2.4% rise in the previous month. Also, the sales of electronics increased by 0.3%, which is yet another increase after +4.5% in June.
All in all, the retail data was much lighter than expected, and the stock market did not like it. The move lower in the stocks triggered a sharp move higher in the U.S. dollar, mostly reflected by the EUR/USD pair, which fell close to its 2021 lows.