U.S. Private Sector Adds More Jobs Than Expected, Tapering Looms Large
U.S. private-sector employment rises more than forecast, fueling the U.S. dollar's rally. The Fed's tapering announcement is imminent.
The last hurdle before the tapering announcement in November is a "decent" jobs report for September, in the exact wording as Jerome Powell, the Fed Chair, used at the last FOMC meeting. Yesterday, the ADP Non-Farm Employment Change report showed that the private sector added 568,000 new jobs in September, on expectations of 425,000.
Many traders use the ADP report as indicative of what the Non-Farm Payrolls (NFP) report will show on Friday. Judging by the fact that the private sector added more jobs than the market expectations, the chances of a "decent" NFP report on Friday are high.
And so, the tapering is all but announced.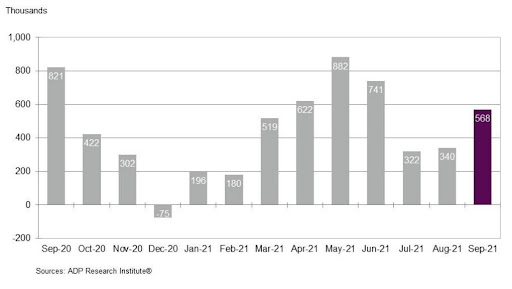 Details of the September ADP Report
In September, the most jobs were added in the leisure & hospitality industry – some 226,000 jobs, followed by the education and health services industry with 66,000 new jobs. The service-providing sector was responsible for creating 466,000 new jobs in September, with the rest belonging to the goods-producing sector.
Large companies that employ 500 or more people did most of the hiring; some 390,000 jobs were created, while small businesses with less than 50 employees added 63,000 new jobs in the month. On the flip side, the report emphasised that hiring is still heavily impacted by the COVID-19 pandemic trajectory.
All in all, this is a solid report, offering a positive signal ahead of Friday's all-important NFP data. After all, it indicates faster jobs growth even in pandemic-exposed sectors.