U.S. Preliminary GDP Much Stronger Than Expected in the Second Quarter
U.S. preliminary GDP surprises to the upside. The economy grew by 6.6% annualised in the second quarter, reaching a surplus of +0.8% relative to the pre-COVID-19 era.
The GDP or the Gross Domestic Product is one of the most important pieces of economic data. Typically released quarterly, it shows the value of all goods and services produced by an economy.
The data is particularly important when it refers to the largest economy in the world – the United States economy. In the U.S., three versions of GDP are released a month apart: advance, preliminary, and final.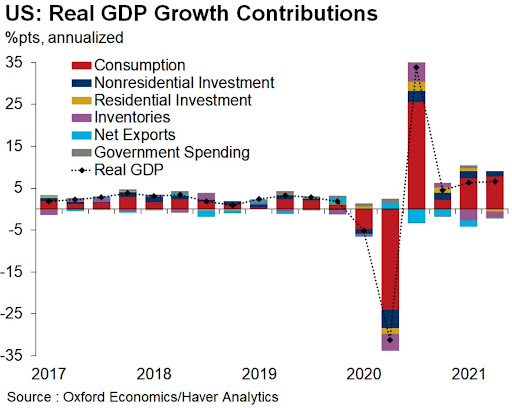 Out of the three, the advanced GDP has the biggest impact on financial markets because it is the earliest one. Rarely the other two releases are different from what the market expects. If they are, traders should pay attention.
Real GDP Increased by 6.6% in Q2 2021
Yesterday's preliminary GDP surprised to the upside. In the first quarter, the GDP increased by 6.3%, while in the advance estimate, the economic growth for the second quarter was 6.5%. Yesterday, the preliminary GDP showed a 6.6% increase, led by upward revisions in nonresidential fixed investment and exports.
Final sales to domestic purchasers grew by 7.9%, and consumer spending surged by a whopping 11.9%. Inventories and international trade are a major drag on the GDP. However, the strong private sector demand tends to offset it.
All in all, this is good news from the largest economy in the world. Moving forward, inventories and net trade should contribute more to the economic growth in the second half of the year. The main risk remains the Delta variant and its impact on economic growth.