U.S. Job Creation Disappoints but the Unemployment Rate Declines Further
September NFP data missed expectations. The U.S. economy added only 235,000 jobs while the market expected three times more jobs to be reported. The unemployment rate declined further, reaching 5.2%.
Traders were shocked to find out that the U.S. September NFP report showed that the number of jobs created in August was three times lower than expected. The economy added 235,000 new jobs, but the market expected 720,000.
For those paying attention, the report was not quite a surprise. After all, only two days earlier, the private payrolls missed expectations too, hinting at a disappointing NFP report.
Yet, despite the overall miss, the report had some positive developments worth mentioning. First, both numbers in June and July were revised higher, adding 134,000 new jobs. Second, the unemployment rate declined by 0.2%, reaching 5.2%. On average, the U.S. economy added 586,000 new jobs each month this year, a positive development considering the decline in employment caused by the COVID-19 pandemic.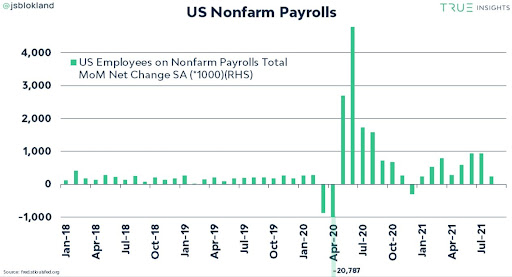 How Did the Dollar React?
Investors were surprised by the weak numbers, but the price action in the days prior to the release indicated that the market was positioned for a negative surprise. The dollar sold across the board ahead of the release and then some more by the time the numbers were made public.
But the extent of the miss is important. At this point, investors are split into two categories. Some believe that the weak jobs report will cause the Fed to delay the tapering of its asset purchases, thus a negative for the dollar. Some others, however, may view that the weak jobs data shows a massive slowdown of the U.S. economy on the back of the Delta variant. Hence, a stronger dollar may be the answer as these investors search for safety.
All in all, the market's reaction was mixed. The EUR/USD rose to its weekly highs shortly after the release, only to reverse and make a new daily low in the moments that followed, offering some opportunities to bulls and bears alike.