U.S. Inflation Increased Less Than Forecast in August
Inflation cooled down in the United States, dropping from 5.4% to 5.3% annually. Core inflation fell even more – down to 4% from 4.3% in July. Is inflation transitory?
The main event of the trading week is behind us as the U.S. inflation report was released yesterday. For the transitory inflation camp, the data confirmed that the increase in the price of goods and services in the last months is nothing but transitory.
Both core and headline inflation dropped from their highs. The core data, which excludes food and energy prices, fell the most, dropping to 4% from 4.3% in July. This is the one that matters for the central bank when deciding on the interest rate level.
Airline fare dropped by 9.1% in August. Car rental and hotels followed, down 8.5%, respectively 3.3%.
But inflation still runs hot despite the slowdown in recent months. To put things into perspective, gasoline prices are up 42.7% over the last year, used cars are up 31.9%, while food away from home is up 4.7%.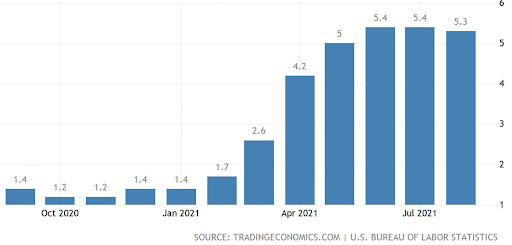 Inflation Unlikely to Be Transitory
Despite the slowdown in August, inflation is unlikely to be transitory. Instead, high inflation will likely become sticky in the months ahead for at least the following reasons.
First, if the Fed was not bothered by airline fares and the price of used cars on their way up, it won't be bothered now that they are falling. Second, a close look at inflation data in a median sense, we see that yesterday's number was not low.
The chart below shows the rise in the prices of goods and services in 82 equally weighted categories, and the trend in the 12-month space keeps rising.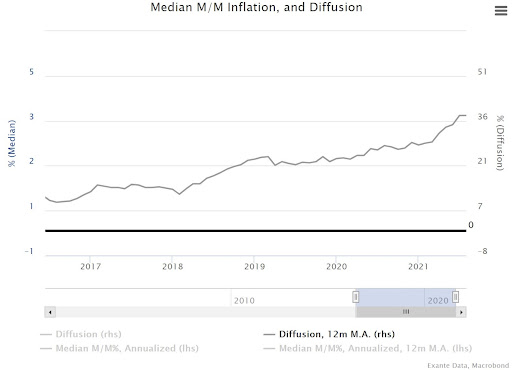 All in all, yesterday's report had a little bit of everything. Those in the transitory inflation camp celebrated the slowdown, while those believing inflation would still run higher were vindicated by the details in the report.
The market reacted by selling the U.S. dollar across the board. As a result, the EUR/USD, GBP/IUSD, or the AUD/USD made new daily highs on the news, while the U.S. stock market futures popped as well – only to give back all the gains and some more after the cash market opened.