U.S. Headline CPI Inflation Highest Since 2008, Dollar Tanks
High energy prices and supply issues continue to push prices of goods and services higher. The U.S. economy must cope with the highest headline CPI inflation since 2008.
One of the main economic events of the trading week was the release of the U.S. inflation data for September. Traders wanted to see if inflation is indeed transitory or it sticks to the current elevated levels.
The outcome is a mixed one. On the one hand, the core inflation, the one that excludes energy and food prices, remained flat, at 4% YoY. On the other hand, headline CPI inflation surged further by 0.1% in September, leading to 5.4% YoY. Both are at multi-decade highs – the core inflation is the highest since the 1990s, while the U.S. headline CPI inflation is the highest since 2008.
Therefore, it is difficult to argue that higher inflation is transitory when it keeps rising, albeit not at the same pace as it did in the past. The energy prices (i.e., oil, natural gas) are also rising and, with the ongoing supply issues, the pressure on inflation remains to the upside.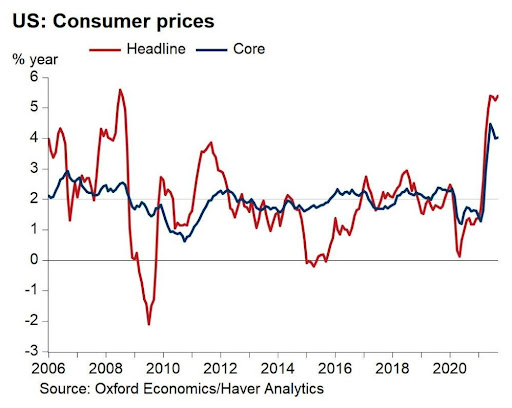 U.S. Dollar Tanked on the News
The market reacted immediately to the news and sent the U.S. dollar lower across the board. As such, after the release, the EUR/USD pair bounced from the 1.1520 area close to 1.16, and similar price action was seen on other U.S. dollar pairs.
Perhaps the most impressive reaction was the one in the price of gold. First, it rose close to $1,800, and now it consolidates below major resistance.
Airfare, car rental, hotel prices declined in September, but much of the decline was offset by the rise in shelter costs. So, for now, inflation is sticky and not transitory.