U.S. Final GDP Surprises to the Upside, Fueled by Strong Consumer Spending
The strong U.S. final GDP number shows that the American economy grew by 6.7% annually. Business investment, consumer spending fueled economic growth.
One of the most important pieces of economic data was released this week in the United States. It is the final GDP number, one that rarely differs from the market expectations, and when it does, traders pay attention.
In the United States, there are three versions of the GDP, released one month apart. The first release has the heaviest impact on financial markets, and the other two usually come in line with market expectations.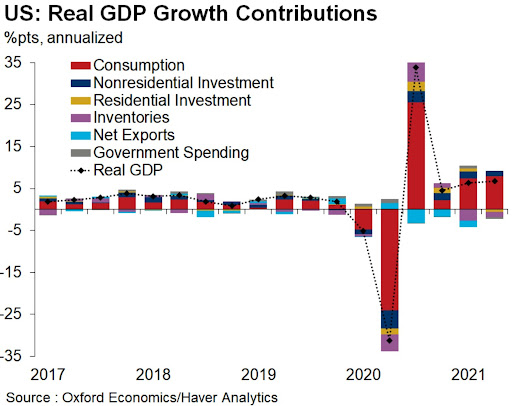 The final GDP is released about 85 days after the quarter ends, and the market expected the U.S. economy to grow by 6.6%, but instead, the economy grew by 6.7%. A stronger economy should also be reflected by the currency's strength – in this case, the U.S. dollar's rally this week is in line with the U.S. economic strength.
Strong Consumer Spending Contributing to Higher Economic Growth
Both consumer spending and business investment contributed to the better than expected final GDP release, up +12%, respectively +9.2%. On the flip side, inventories and government spending declined. However, they both signalled strong private-sector demand, and the U.S. economic recovery from the COVID-19 recession is about to finish.
On the one hand, we see strong imports, consumer spending above the pre-COVID-19 path, and promising business investments. On the other hand, GDP is not above the pre-COVID-19 path, and services are still well below.
All in all, the U.S. economic recovery from the pandemic is on track, outpacing its peers by a mile. As such, the U.S. dollar strength in 2021 should not represent a surprise for anyone.