U.S. Dollar Seen Weak Ahead of the Core PCE Data
The Jackson Hole Symposium and the U.S. inflation data will move the U.S. dollar this week. Investors expect the core PCE to slow down to 0.3% from 0.4% previously.
The U.S. dollar declined at the end of the previous week. The EUR/USD exchange rate climbed back above 1.17, reacting from dynamic support. It looks like the market formed a falling wedge pattern ahead of an important trading week.
Today is the PMI day in Europe and the United States. The Flash Manufacturing and Services PMIs in Europe point to further strength and continued recovery. In the United States, the Flash Services PMI is expected at 59.1 after 59.9 previously.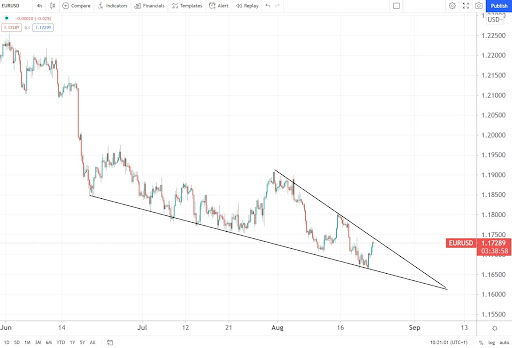 In Japan, the core CPI inflation data is released on Tuesday. Investors expect it to come out at 0.1%, unchanged from the previous month. The Japanese yen is on retreat at the start of the trading week, as the USD/JPY recovered the lost ground and regained the 110 level.
All Eyes on the Inflation Data
The main events of the trading week are the Jackson Hole Symposium and the core PCE data in the United States. The Fed may signal a change in its monetary policy and make the tapering announcement this week.
But, the event is highly anticipated now and most likely already priced in by markets. The Fed made all the efforts to improve its forward guidance and avoid a similar tantrum as in 2012-2013. Because of that, every trader knows that the Fed plans to taper its asset purchases, and an announcement is imminent.
Yet, in trading, it is not all black and white. Inflation may change the Fed's plans, especially the core PCE Price Index. This is the Fed's favoured way of measuring inflation, and the market knows it. Inflation is expected at 0.3%, slowing down after 0.4% in the previous month. Higher inflation may spell troubles for markets, and it may turn out that inflation, and not the tapering, will be the main event of the trading week.