U.S. Dollar Index at Crossroads at the Start of the New Month
The U.S. dollar index (DXY) has a hard time breaking below 90. Former resistance turned into strong support, but the technical picture remains weak unless the DXY moves back above 100.
One of the most-watched indices in financial markets is the U.S. dollar index (DXY). It is a weighted index that shows the value of the dollar against its main peers. The euro is the one that weighs the most in the index, with over 57% of it, followed by the Japanese yen and the British pound with 13.6%, respectively 11.9%.
In 2021, the U.S. dollar index strengthened. Since the start of the trading year, the euro has retreated against the dollar, dropping from above 1.23 to below 1.17. A similar weakness is seen in the Japanese yen.
But, in the grand scheme of things, the bounce higher in the dollar seen in 2021 is just a drop in the ocean. The DXY bounced from the 90 area as the euro dropped over six big figures against the greenback (i.e., seven hundred pips), yet the move higher is barely seen on the long-term charts.
Is the recent weakness the start of a new attempt at the support area?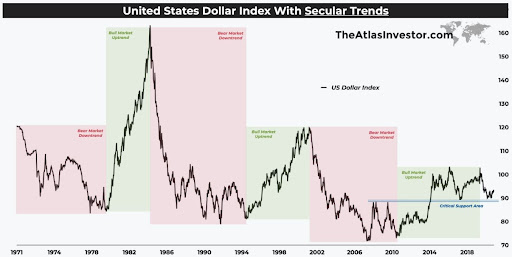 DXY Bounces from Critical Support Area
All summer, investors waited for the Federal Reserve of the United States' message regarding the tapering of the asset purchases. The tapering, or the reduction in the bond-buying program, is the one thing that kept the dollar bid during the first half of the year.
The Fed delivered. Last week, it announced that tapering would likely start this year. Yet, the DXY declined following the announcement because the Fed signalled that tapering is no tightening. In fact, it vowed to keep interest rates lower for a longer period than the market expects.
As a consequence, the DXY's strength reversed. Just a few days ahead of the Non-Farm Payrolls release, the dollar is well off its highs.
Will the index test the 90 level again in the last months of the trading year?