U.K. Unemployment Rate Steady at 4.6%, Claimant Count Change Misses Expectations
The United Kingdom's job market continues to improve. The unemployment rate remained steady at 4.6%, while the number of people receiving unemployment benefits declined, albeit not as much as the market expected.
The British pound recently traded with a bullish tone as it gained across its peers ahead of today's important jobs data in the United Kingdom. The report showed an economy that keeps creating jobs, although not as quickly as the market expected.
For example, the market expectations were that the Claimant Count Change would decline by -71,700, but the actual number came out at -58,600. Thus, while missing the expectations, the data shows further improvement in the jobs market as the economy recovers from the COVID-19 impact.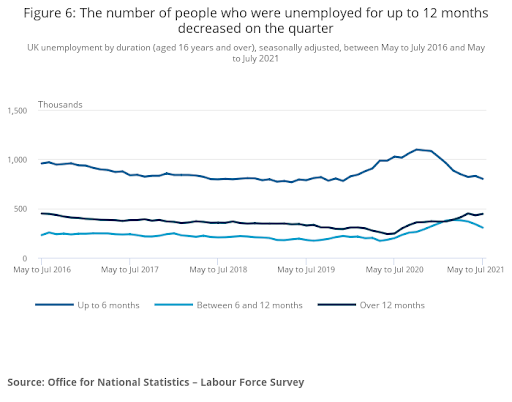 More encouraging is the unemployment rate, steady at 4.6%. Furthermore, the number of people that were unemployed for up to 12 months declined too. On the flip side, long-term unemployment keeps rising, posing a challenge for further improvements in the months ahead.
The British Pound Bounced on the Jobs Report Release
Since the end of 2020, the unemployment rate has been on a declining trend. The number of payroll employees increased in August, reaching 29.1 million, higher by 241,000 new jobs added on the month. The substantial increase in the employment rate is visible, especially among young people severely affected by the pandemic.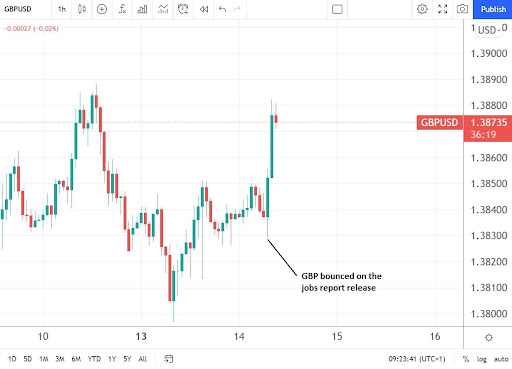 As mentioned earlier, the British pound found buyers recently and the jobs report offered the perfect excuse for the GBP/USD to jump to the daily highs. The British pound gained against its peers and the jobs data confirms the bullish bias.
Tomorrow's CPI (i.e., inflation) data is key to recent strength in the British pound. The market expects inflation to rise well above the Bank of England's target and to show a yearly increase of 2.9%. If the actual numbers confirm the forecast, the Bank of England may be forced to start removing the monetary accommodation measures.