U.K. Unemployment Rate Declines Further in July
Further improvements in the U.K. jobs market were seen in July. While the unemployment rate declined to 4.7%, the Claimant Count Change did not decrease as much as expected. The pound and the FTSE 100 index declined.
The U.K. jobs report came out today, revealing strong underlying demand and a record number of vacancies. The unemployment rate declined to 4.7% while the market expected 4.8% for the month, which is yet another sign that the jobs market is improving.
However, the Claimant Count Change disappointed. The market participants expected the number to decline by 84.1k, and the actual number only showed a decline of 7.8k. As such, the actual impact on the financial market was negative, with both the FTSE 100 index and the British pound sliding on the news.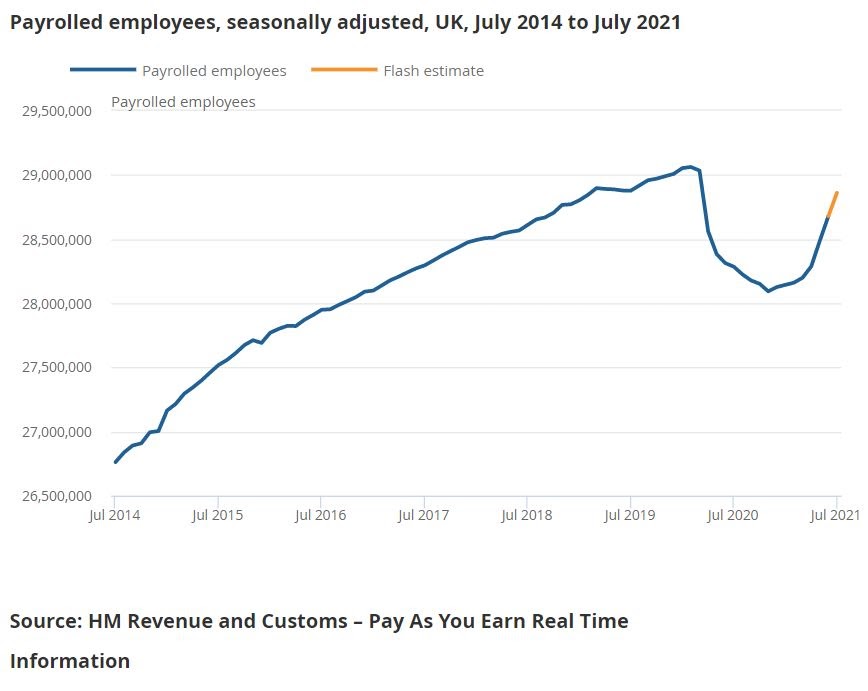 Strong Rise in Average Weekly Wages
One of the biggest surprises of this report was the very strong rise (+8.8%) in the average weekly wages, as shown by the Average Earnings Index. It suggests that wages try to keep up with the rise in the inflation rate, an encouraging signal to say the least.
In July 2021, the number of payrolled employees increased by 2% compared to the same period one year ago. Equally important, the median monthly pay increased by 6.4% compared to July 2020.
While the market did not like the fact that the Claimant Count Change did not improve as expected, the jobs report is nevertheless encouraging. Yet, the British pound declined on the news. It fell a quarter of a percentage point against the U.S. dollar, perhaps influenced by the lack of volatility in financial markets as well as by the fact that the improvements in the U.K. jobs data were pretty much priced in.
All in all, the U.K.'s economic recovery continues. More of the same in the coming months, and the pressure on the Bank of England to start tapering the asset purchases will mount.