U.K. Inflation at 9-Year High, Well Above the BOE's Target
Inflation in the United Kingdom rose by 1.2% in August – the largest increase since January 1997. Restaurant and hotel prices contributed to the number.
This week is dominated by inflation data released in many developed economies. Two days ago, the U.S. inflation slowed down and dropped from 5.4% to 5.3%.
It was not the case in the United Kingdom, though. Inflation in the U.K. reached a 9-year high, up to 3.2% from 2% previously. Moreover, the CIPH inflation, including the owner occupiers' housing costs, rose by 3% in August.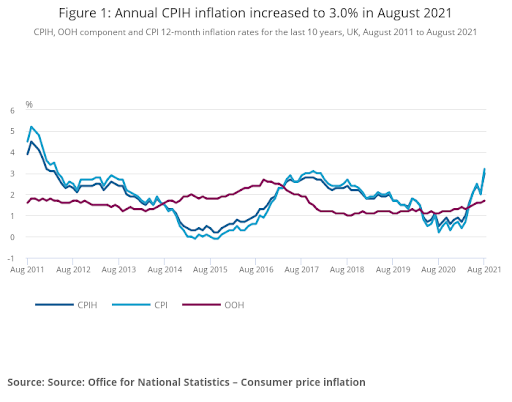 Restaurant and Hotels Prices Soared in August
Restaurant and hotel prices contributed the most to the rise in inflation in August. They both contributed 0.65% to the inflation number, the largest impact ever.
Previously discounted restaurant and café prices are to blame. During the incipient phases of the pandemic, the U.K. government ran the EOHO (Eat Out to Help Out) scheme. Simply put, it offered a 50% discount, maximum GBP 10 per diner, every Monday through Wednesday on food and non-alcoholic drinks.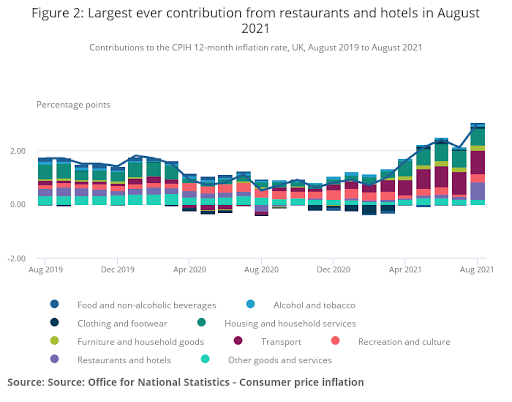 Recreation and culture, food and non-alcoholic beverages, alcohol and tobacco prices were all up on the month by 0.2%, 0.09%, respectively 0.03%. Only clothing and footwear prices declined by 0.01%, almost unchanged.
For currency traders, the report signals mounting pressure on the Bank of England (BOE) to react. While inflation is seen as transitory in the developed economies, mainly at the expense of the COVID-19 pandemic, it depends on how much the central can afford to let it overshoot.
In the BOE's case, the central bank has a mandate from the U.K. Government to keep inflation at the 2% target. This way, households and businesses can better plan for the future. On the other hand, too high or too low inflation rates make it difficult to plan spending, thus becoming a drag on economic growth.
The current 3.2% inflation is way above the BOE's target. How long will it take until it slows down economic growth?