The U.S. Infrastructure Bill to Add Millions of New Jobs in America
The U.S. Senate has passed the infrastructure bill worth $1.2 trillion. The new bill will create millions of new jobs in the United States in an already saturated job market.
Yesterday was a great day for the U.S. stock market. The Dow Jones and the S&P 500 indices made new record highs, pushed higher by the Senate passing Biden's infrastructure bill.
If the bill ultimately clears both chambers, it will have ripple effects throughout the U.S. economy. The $1.2 trillion will be spent on roads and bridges (about $110 billion), power grid upgrades (about $73 billion), rail and Amtrak (about $66 billion), broadband expansion (about $65 billion), and clean water (about $39 billion), to name just a few.
All this spending will create millions of jobs throughout America. While this is great news for the economy, the new jobs come in the context of a saturated job market and rising inflation.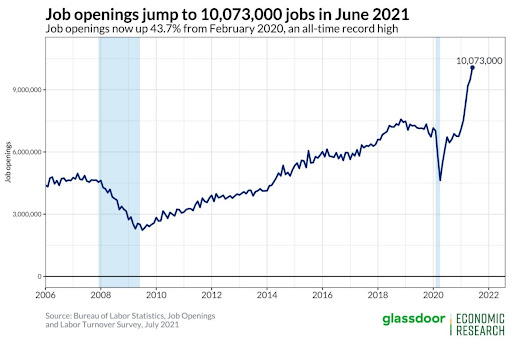 Job Openings Jumped to 10.1 Million – A New Record High
Last Friday, the Non-Farm Payrolls (NFP) report showed that the economy added more jobs than the market expected. Close to one million new jobs were created in July alone, bringing the Fed closer to its full employment mandate.
Earlier this week, the job openings data for June confirmed the strong jobs market. The opening jumped to 10.1 million, another record high for the fourth consecutive month.
If we put everything into context, we have an economy that will likely have a hard time finding workers to fill all these jobs. The new jobs to be created by the infrastructure bill will put further pressure on wages as they will compete with the private sector in finding workers to fill them. Hence, the pressure on wages will mount, and wages are a big driver of inflation.
To sum up, because today is the U.S. inflation day, the new infrastructure bill passed by the Senate is both good and bad news for the economy. The good news is that the economy will grow. The bad news is that it is unclear at what costs.