The U.S. Dollar Correlation with Oil Prices Changed – Why?
The negative correlation between the U.S. dollar and the price of oil all disappeared. What are the reasons behind it, and what are the implications for traders?
One of the most striking things in financial markets recently is the correlation between the U.S. dollar and oil price. Not that the correlation did not exist in the past, but it changed drastically.
More precisely, the American currency was negatively correlated with the price of oil in the past. For example, before the 2008-2009 Great Financial Crisis, the EUR/USD and oil prices looked nearly identical on a chart. In other words, as the price of oil rose, the dollar declined – an inversed correlation.
But things changed lately and changed drastically. Fast forward to 2021, the price of oil posted a remarkable rally, being one of the markets that rallied the most in the year so far.
So did the dollar, as seen by the decline in the EUR/USD pair – it dropped from 1.23 to 1.16. What are the reasons that led to the negative correlation to change?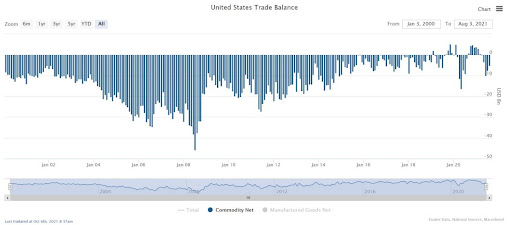 U.S. Turning Into a Big Energy Producer
There are at least two things to mention that may have caused the drastic change in the oil and dollar correlation. One comes from the way the U.S. economy changed.
A quick look at the deficit on the commodity balance, seen above, shows that it has been erased. We see a huge deficit back in the 2006-2008 period that simply disappeared. It tells us that the U.S. is turning into a big energy producer, and thus, higher energy prices are positive for the dollar.
Another comes from the European Central Bank. Its way of looking at inflation changed, and it is now willing to let its overshoot. The EUR/USD is the most important pair in the FX universe and the most dominant one in the Dollar index, so the change also matters for the dollar. When such correlations between the price of oil and the dollar change, traders must be aware because trading strategies that worked in the past will fail to bring results in the future.