The Reserve Bank of Australia Keeps Monetary Policy Unchanged in August
No change in the monetary policy from the Reserve Bank of Australia (RBA). The economy remains strong despite new lockdowns, but inflation has not yet reached its target.
The RBA is one of the few central banks in the advanced economies that still holds a monthly meeting. Every first Tuesday of the month, the RBA communicates its policy and view of the economy.
The central bank decided to keep the cash rate unchanged, at 0.1%, and the interest rate on exchange settlement balances at 0%. Moreover, the bank will still target 0.1% for the Australian Government bond with the expiration date of April 2024. Finally, the bank plans to reduce the bond-buying program in September to $4 billion a week, down from $5 billion a week.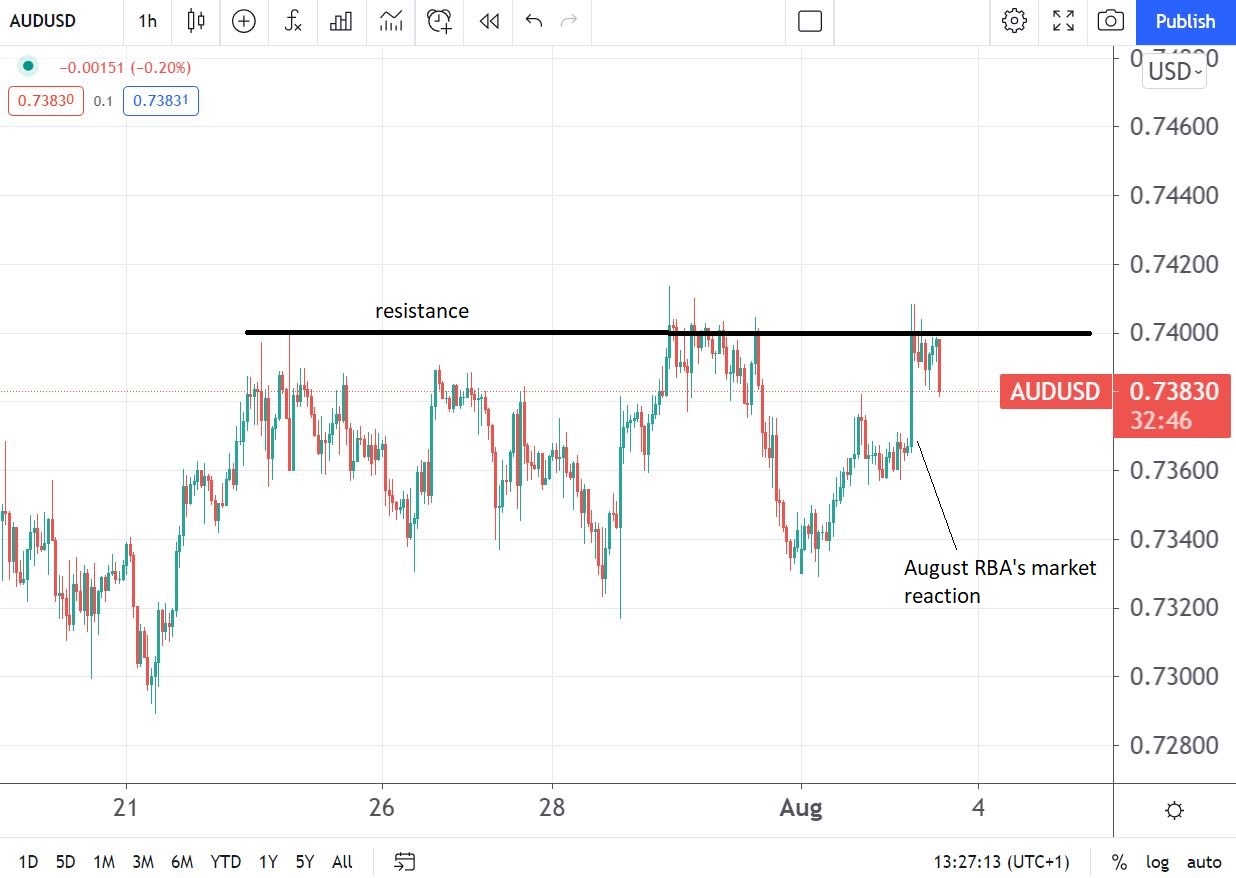 At the announcement, the AUD/USD pair squeezed higher but faced tough resistance at the 0.74 area. In fact, the pair traded between 0.73 and 0.74 for more than two weeks now, facing resistance to the upside and meeting support on any attempt to break lower.
The RBA Sticks to Its Tapering Plans
Australia faces a new surge in COVID-19 infections, so the government has imposed new lockdowns in various parts of the country. But, the restrictions are not enough to change the RBA plans of tapering the bond-buying program.
The market expects the central bank to reduce the bond-buying by $1 billion a week starting with September and to run at that pace until at least November. This was probably the trigger for a higher Australian dollar on the announcement, as some market participants may have hoped that the RBA would alter its tapering plans due to the resurgence of COVID-19 infections.
As for the cash rate, the bank plans to raise it only after inflation is within the 2%-3% target set by the bank. According to the available economic projections, this condition is unlikely to be met until 2024, so the accommodative measures will remain in place for some years from now.