The Japanese Yen and Nikkei 225 React to Bank of Japan's Message
Nikkei 225, the Japanese stock market index, broke out of a declining trend after the Prime Minister announced his resignation recently. The Japanese yen weakened on the back of the Bank of Japan's Kuroda signalling easing beyond COVID-19.
Investors' attention has recently turned to Asia. More specifically, events in Japan have looked particularly interesting lately as Prime Minister Suga's resignation triggered a bullish breakout on the Nikkei 225 index.
The breakout comes on the back of investors awaiting more fiscal stimuli from the new leadership to combat the effects of the COVID-19 pandemic. We talk about packages worth trillions of yens – and so the Nikkei 225 index regained the 30,000 points level, albeit only for a short period.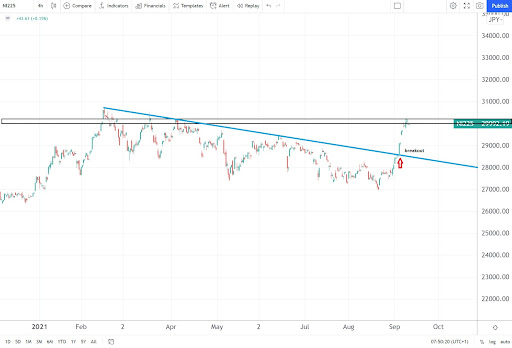 Bank of Japan's Governor Signals More Easing
The move higher in the Nikkei 225 index triggered pronounced weakness in the Japanese yen. The two main currency pairs, the USD/JPY and the EUR/JPY, have both traded with a bullish tone lately, regaining the 110, respectively 130 levels.
The Japanese yen's decline was fueled by the Bank of Japan's Governor Haruhiko Kuroda who said in an interview that the monetary easing would remain in place even after COVID-19 abates.
As such, with fiscal and monetary stimuli poised to continue, the stocks moved up and the yen declined. What can go wrong?
Plenty of things, but the most important aspect is what happens with the global economy, in particular with the U.S. economy. A risk-off move would trigger weakness in the U.S. equities, and that would affect the Nikkei 225 in the short to medium term. Also, a risk-off move would trigger a stronger Japanese yen.
To sum up, while recent events are bullish for the stock market and bearish for the yen, the Japanese economy and monetary policies are not independent of the events on the global stage. Once again, financial markets' correlations are key to understanding the future market direction.