Taper Timeline Suggested by FOMC Minutes Sends the Greenback Higher
Most FOMC participants judged that it could be appropriate to start reducing the asset purchases this year. November is the most likely month for the tapering to start.
Every three weeks after the FOMC (Federal Open Market Committee) Meeting, the Federal Reserve of the United States releases the minutes of the meeting. They show what exactly was discussed and represent one of the favorite ways for the central bank to implement forward guidance. More precisely, they offer traders and investors more details regarding what concerns markets right now.
This year, the main concern is the tapering of asset purchases. The largest central bank in the world keeps buying bonds worth $120 billion every month – $80 billion in U.S. Treasuries and $40 in mortgage-backed securities.
Tapering means a reduction of the buying pace. More precisely, the central bank intends to gradually remove the stimulus.
Back in time, in the aftermath of the 2008-2009 Great Financial Crisis, the Federal Reserve did not do a great job removing the stimulus. Its decision to taper the asset purchases triggered a massive taper tantrum, sending stocks and risk assets aggressively lower.
This time, the central bank hopes to have communicated its intentions much better. The U.S. dollar gained, as seen below against the euro, on the announcement that tapering may come as early as November 2021.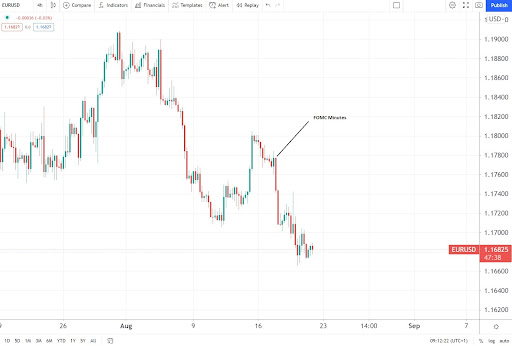 November 2021 – Most Likely Month for Tapering Start
Following the FOMC Minutes released last Wednesday, the most probable path is for the Fed to make the official announcement at the September FOMC Meeting. Some voices argued that the Fed might use next week's Jackson Hole Symposium to make the announcement, but the minutes suggest September.
Next, the starting month is likely to be November and not December, given the casual year-end constraints. Finally, at a pace of $12 billion/month, the taper will end in August 2022.
Because this is the largest central bank in the world, watching over the world's reserve currency, its decisions act as a guide for other central banks. It moved first, and so the greenback (the U.S. dollar) strengthened.