Stock Issuance Highest Ever – Is It Time for Investors to Worry?
Stock issuance has reached the highest ever during the COVID-19 pandemic. Is this a sign of a bubble or the beginning of a stronger bullish market?
Eager buyers are not afraid of the fact that the U.S. equity markets make a new all-time high almost on a daily basis. They shouldn't be – but they should be worried that new records are also set, this time on the valuation front.
Back during the tech bubble at the end of the 1990s, stock issuance reached the last high. If history is of any guidance, then 2021 should be worrisome for investors, as a new record high is set. The problem with record high stock issuance is that Wall Street knows when it is time to sell to buyers.
Everyone wants to have an IPO in a rising market. For this reason, when the market is bearish, the number of IPO declines because investors do not want to take a risk. So, Wall Street firms are in a hurry to issue new stocks while the appetite is still there and the market keeps rising. By selling more stocks than ever to the public in 2021, Wall Street knew the appetite was strong.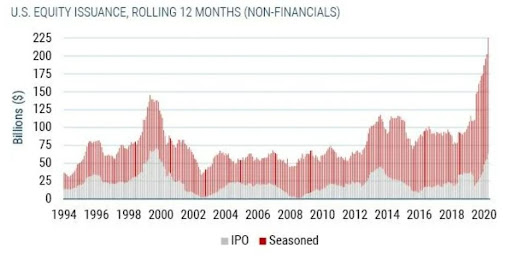 Easy Monetary Policy Did Help
The Fed reacted to the economic recession generated by the COVID-19 recession the same way it did in the aftermath of the 2008 – 2009 Great Financial Crisis. It lowered the federal funds rate close to zero and engaged in quantitative easing (i.e., buying bonds issued by the U.S. government).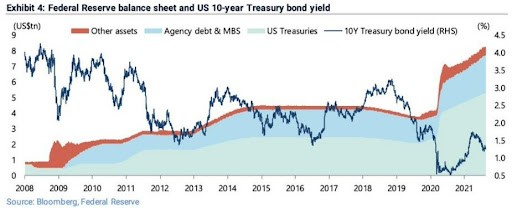 The chart above explains much of the exuberance behind the stock market's rally. The more bonds the Federal Reserve bought, the lower the U.S. 10-year Treasury bond yield went. With a collapsing yield, investors had no option but to accept the risk of participating in the stock market at such high valuations.
In the meantime, analysts and investment houses keep pushing their targets for the S&P 500 higher and higher. Most recently, Wells Fargo upgraded its end-of-year target for the index by 8%, arguing that stellar earnings should act as a tailwind for stocks.
The S&P 500 index is on track to establish a new record. In other words, it is about to beat the all-time highs record from 1928. This may be viewed either as the market reaching a peak, as suggested by the record stock issuance, or as the start of a new bullish cycle, much bigger than anything witnessed in the past.
One thing is for sure. The central banks' actions did distort markets and the way investors think and act. The question is – for how long?