Silver Price Momentum Grows as a Bullish Pattern Forms on Larger Time Frames
Silver price remains bullish as the market forms an ascending triangle on the daily time frame. A daily close above $28 sets the stage for further strength in the months ahead.
Precious metals outperformed at the start of the pandemic. By the time the stock market indices around the world recovered from their bearish dip triggered by the COVID-19 virus, gold, silver, and platinum followed suit. Gold even made a new all-time high in the summer of 2020.
Fast-forward 12 months later, the precious metals underperformed. In fact, gold is one of the worst-performing assets year-to-date, which is quite ironic if one considers its purpose in investors' portfolios as a hedge against inflation. While inflation has risen dramatically in the last few months, gold did not follow. In fact, it did the opposite – it declined.
Historically, precious metals, such as gold and silver, as well as other commodities, aimed to protect investors from the rise in the prices of goods and services. However, they do tend to either lead or lag. In this case, the silver price forms a bullish pattern on the larger time frames, so it appears that precious metals lag the rise in inflation. However, it may not last long, should we see a bullish breakout.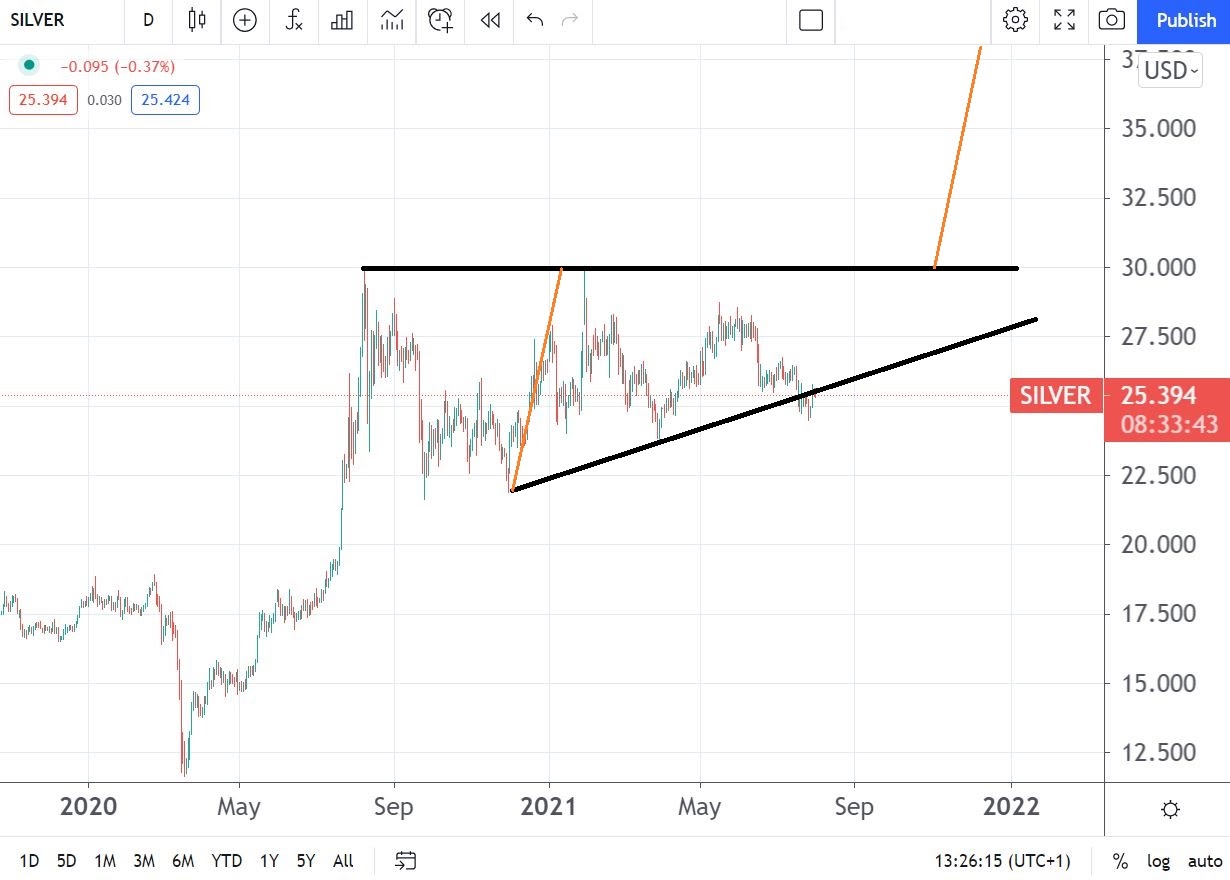 Ascending Triangle on the Daily Time Frame
An ascending triangle is a bullish consolidation pattern. The market keeps pressuring horizontal resistance while holding the series of higher lows intact.
In the case of silver, the horizontal resistance is given by the $30 area. Currently, the market is in the downtrend part of a triangular pattern. Bulls may want to wait for the price of silver to close above $30, as a sign of strength that points to further upside.
The ascending triangle's measured move equals the length of its longest segment, projected to the upside from the horizontal resistance. Effectively, it means that bulls that decide to break on a move above $30 should have a stop-loss order at the previous higher low and a take-profit order at $37, as pointed by the measured move.