Short Interest Reaching the Lowest Level in More Than Two Decades
Who is shorting the U.S. equity markets? Investors remain optimistic despite sky-high valuations.
It appears that no one wants to short the U.S. equity markets anymore. The relentless move higher has led to the short interest reaching the lowest level in more than two decades.
Easy monetary and fiscal policy, as well as the $18 trillion worth of bonds with negative yields, have led to investors flocking into equities. Any small correction has been bought aggressively by investors not bothered by the sky-high valuations.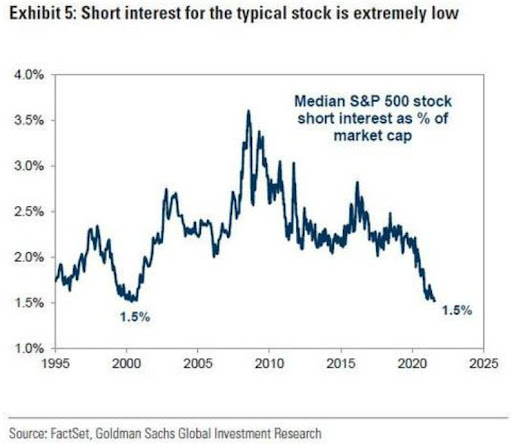 For the FX trader, the stock market's performance is very important because it influences the risk-on/risk-off sentiment. More precisely, a rising stock market is usually accompanied by a weak U.S. dollar and Japanese yen. Knowing that the short interest declined may help investors make some important decisions.
Not All Equity Markets Are Bid
The U.S. equity market is the largest in the world. Because of the investing culture among American households, every company in the world wanting to grow its business is looking to get access to American capital. Therefore, flows into and out of the U.S. equity markets may drive the price action in other markets, too.
Most recently, the U.S. markets, and thus the risk-on environment, benefited from the rout seen in the Chinese markets. The Chinese government is clamping down on the Chinese tech companies, and some interesting changes take place in the world's top companies by market capitalisation.
For instance, NVIDIA is about to take Tencent as the 10th largest company in the world – although Tencent has a strong core business with a world-class $300 billion portfolio of investments. Also, Walmart, the U.S. retailer, is about to take Alibaba's 15th place.
The moves help explain the bid behind the U.S. stocks. More precisely, flows are pouring out of Chinese equities and into U.S. ones. Those same flows are responsible for gyrations in the currency market, as investors liquidate positions in one currency to open new ones in another currency.
To sum up, equity markets remain elevated, and the bias is that the bullish momentum will continue. Even if the Fed announces a schedule for tapering its asset purchases, financial conditions will remain accommodative for a long time.