September U.K. Services PMI Remains Well Inside Expansion Territory
U.K. Services PMI beats expectations, seen at 55.4 in September, well inside expansion territory. The British pound traded with a bid tone before and after the release.
The U.K. services sector continues to expand, as reflected by the Services PMI report for September. The report showed that the services sector continues to expand, as the PMI print in September came out at 55.4 on expectations of 54.6.
PMIs are an important metric in analysing economic performance. It is usually released for two sectors only – services and manufacturing, but in some countries, such as the U.K. and Australia, a PMI report is released for the construction sector too.
PMI stands for Purchasing Managers' Index, and it is a survey. In the U.K., about 650 purchasing managers are surveyed each month, being asked questions such as how the business conditions are, what the inventories level is, if there are changes in new orders, etc. As such, the report is a leading indicator of economic health, and any values above 50 show a sector in expansion territory.
If the economy is a service-based one, like the U.K. economy is, the Services PMI report is even more important for interpreting future economic performance. As such, the report tends to have a strong impact on the local currency, the British pound.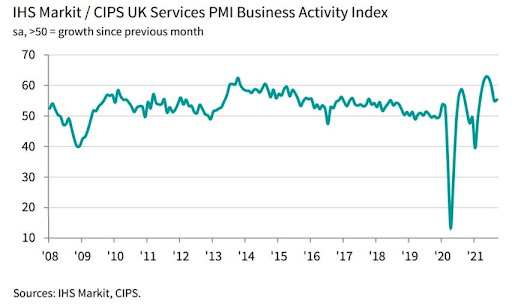 Price Charged Inflation Accelerated
The good news is that the services sector continues its expansion. Also, more than half of respondents are optimistic and expect a rise in output during the year ahead.
However, rises in fuel, energy, and staff costs were passed to consumers in September. Effectively, it means that inflationary pressures will continue in the period ahead, thus supporting the case for the Bank of England to shift its accommodative monetary policy.
As such, the British pound was supported on the Services PMI release yesterday. It gained against the euro, as reflected by the EUR/GBP exchange rate that reached close to 0.85, and also against the U.S. dollar and the Swiss franc.