Risk-Off Grips Financial Markets, Safe-Haven Currencies in Strong Demand
Risk-off accelerates after the FOMC Minutes. Financial markets drop, led by the weakness in the U.S. equity indices. The Dollar Index (DXY) bottomed and trends higher.
The FOMC (Federal Open Market Committee) Minutes released yesterday in the second half of the North American session were supposed to reassure markets about the Fed's intentions. They did – the Fed is on track to taper its asset purchases.
But, the markets did not like what they heard. The U.S. equity indices declined sharply. For example, the Dow Jones index closed well below the 35,000 level, and the futures point to further weakness today.
A risk-off environment is characterised by weak equity markets and strong demand for safe-haven currencies. The Japanese yen and the Swiss franc are such currencies, but so is the U.S. dollar – the world's reserve currency.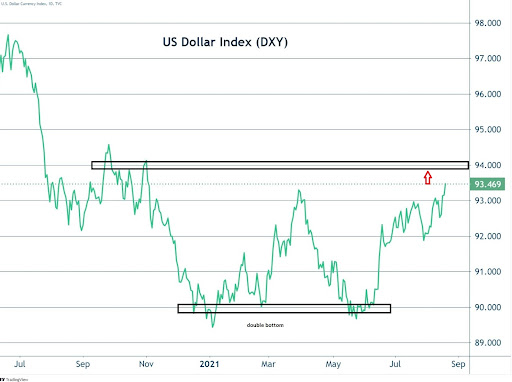 The Dollar Index Reached a New High for the Year
The trading year started with equity markets at the highs and the dollar at the lows. However, from the first trading days, the right positioning was to buy the dollar.
The DXY is made of the EUR/USD pair mostly. As such, a close look at the index reveals an inverse EUR/USD chart. The index rose at the start of the year, and the EUR/USD fell from 1.23 to 1.17. Next, the DXY threatened to make a new low below 90, and the EUR/USD rose all the way back to 1.22. Finally, the DXY bottomed, and so the EUR/USD pair topped.
A double bottom pattern on the DXY coincides with a double top pattern on the EUR/USD pair. The recent move higher in the DXY broke the previous lower high, suggesting that more strength lies ahead.
Effectively, the break higher invalidates the bearish trend. If we add the double bottom to the mix, the chances are that the DXY will try at the next resistance level – 94. As such, the pressure on the EUR/USD is here to stay.