Quantitative Easing Explains the U.S. Dollar's Strength
Unconventional monetary policies led to huge differences between central banks' balance sheets. The ECB and the Federal Reserve balance sheet expansion are irrelevant compared to the ones undertaken by the Bank of Japan or the Swiss National Bank.
The dominant theme in the currency market in 2021 was a stronger U.S. dollar. It is also called the "greenback", and it gained across its peers, as seen in the EUR/USD exchange rate down from 1.23 to 1.16 or in the USD/JPY rate up significantly from its yearly lows in the 103 area.
Starting with the Great Financial Crisis of 2008-2009, the central banks embarked on a new monetary policy model. Up to that point, we can talk about conventional or classic monetary policy decisions, where central banks raised or cut the interest rates according to the economic strength or weakness.
But that changed abruptly in the aftermath of said crisis. The Federal Reserve of the United States (Fed) started to buy its government bonds with newly created money. The process, dubbed quantitative easing or QE, was quickly embraced by other central banks in the developed world, and it represents an unconventional way of further easing the financial conditions beyond a mere rate cut.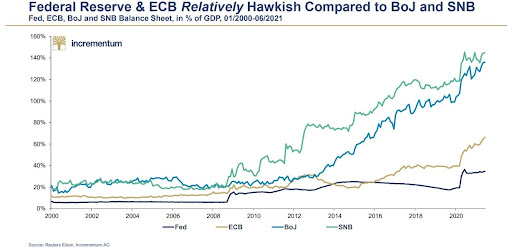 The BOJ and SNB Eased More Aggressively Over the Years
Central banks expanded their balance sheet (i.e., assets they hold) by buying their own governments' bonds or debt. With interest rates close or below zero, the balance sheet size and expansion quickly became a metric of comparing the aggressiveness of a central bank's easy monetary policy. Thus, a way of comparing (and trading) different currencies.
If we compare the balance sheets of the European Central Bank, the Fed, the Swiss National Bank and the Bank of Japan, and we interpret them as a percentage of GDP, we see the Fed easing is not so aggressive. In fact, the Fed's balance sheet expansion is held down by the faster GDP growth rate.
Using this metric, it becomes obvious that the U.S. dollar's strength in 2021 is justified, despite that the Fed still buys U.S. government bonds. Moreover, now that the tapering of the asset purchases is all but announced, the U.S. dollar's rally may continue in the last trading months of the year.