Private Payrolls Missed Expectations, Investors Turn Their Attention to the NFP Report
The private sector employment report released yesterday missed expectations. Employment increased by 374,000, but the market expected 640,000.
Private payrolls are always released two days before the Non-Farm Payrolls (NFP) report. Out of the two, the NFP is much more important for traders and markets, but the private sector employment does offer a clue about what to expect from the NFP report.
Yesterday's release showed that employment in the private sector increased by 374,000 – good but not great news. It is good news because this is the eighth consecutive month when the sector adds jobs. Yet, it's not great because the market expected 640,000 jobs to be created – almost double the actual number.
As a consequence, the U.S. dollar tanked on the news. The EUR/USD exchange rate traded above 1.1850 and it is likely to remain bid ahead of tomorrow's NFP report.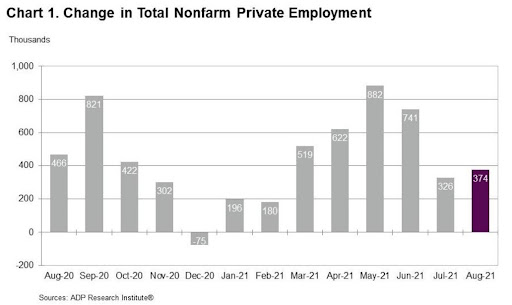 Most New Jobs Were Created by the Services Sector
The U.S. economy is a service-based economy and this is visible in a close analysis of yesterday's private payrolls report. The services sector added 329,000 new jobs, while only 45,000 jobs were created by the goods-producing sector.
Leisure and hospitality led the way with 201,000 new jobs, followed by education and health with 59,000 new jobs. Mid-sized companies with 50-499 employees added 149,000 jobs in August, while small companies only added 86,000 jobs.
All in all, this is a report that puts a big question mark on the market's expectations for tomorrow's NFP number. The market expects the NFP report to show 750,000 new jobs, but the bar is low if we consider the jobs added by the private sector.