Pandemic Triggers a Surge in U.S. Business Applications
The COVID-19 pandemic triggers a surge in new U.S. business applications. New businesses are responsible for close to one million new jobs in 2021 alone. Working from home exceeded expectations.
American entrepreneurship is well-known worldwide, and it has never been so obvious as during the COVID-19 pandemic. The United States delivered the biggest monetary and fiscal stimulus package in the developed world, and Americans did not hesitate to take advantage of the loose financial conditions.
As a result, the U.S. business applications during the pandemic have surged. Healthier financial conditions are responsible for the sharp contrast in entrepreneurship during the pandemic and the global financial crisis.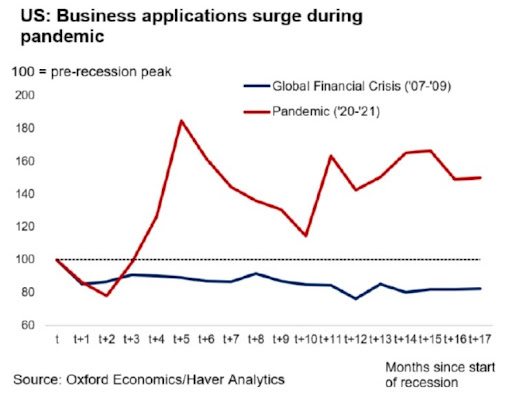 It is estimated that almost 1 million new jobs are created in 2021 alone by new businesses in the United States. Moreover, new businesses are responsible for close to 15% of all jobs created in 2021 alone.
What Else Changed the COVID-19 Pandemic?
The surge in new business applications has many explanations, such as the easy financial conditions. Also, many were forced to venture into entrepreneurship as they lost their job during the pandemic.
What else changed for the better? Productivity did.
According to a recent report, working from home has exceeded expectations. 61.5% of those working from home say they are more productive than expected. Reduced commuting was often cited as one cause of productivity improvement.
All in all, the pandemic changed the way societies work and function. Stimulus helps if used wisely, and the million jobs created by new entrepreneurs had a strong impact on the sharp economic recovery from the pandemic-triggered recession.