Ongoing Energy Crisis Suggests Inflation May Not Be So Transitory After All
Inflation surging through the roof, supported by supply bottlenecks and higher energy prices. European gas prices surged by almost 500% in the past year, and winter did not even start. Inflation may not be so transitory after all.
This week it is all about positioning for the end of the trading month. Also, there are few pieces of economic data scheduled that might move markets. Because of that, traders have more time on their hands to analyse the latest economic developments and what they might mean for financial markets.
One of the most stunning developments lately came from Spain. The PPI or producers price index shows the change in the price on the producers' side. Spain's producer prices rose by 18% YoY, the biggest annual increase since 1980.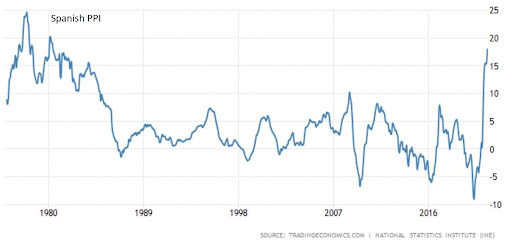 Higher producer prices end up being transferred to consumers, so inflation is expected to rise again. Furthermore, the price of oil is back above $76, threatening with a new high for the year.
Ongoing supply bottlenecks led to higher energy prices around the world. In Europe alone, the price of natural gas surged by almost 500% in the last 12 months. As winter comes and the price remains elevated, the consumer will end up paying more for goods and services.
The U.S. Is No Different
Central bankers keep saying that inflation is transitory and will be a one-off, but the reality "on the ground" begs to differ.
In the United States, Amazon is boosting starting pay to $18/h. Used cars sell for almost as much as new cars, while furniture and appliances are on backorders for close to six months. Moreover, semiconductors are still short. In other words, too much money chases fewer goods, and this translates into rising inflation.
Asset Class Returns of Stagflation 1970s
Looking back in time to compare similar conditions and how asset class returns were during periods with rising inflation, the 1970s are the years to consider. During stagflation (i.e., rising unemployment and inflation), gold and commodities led the way, delivering stronger returns than the S&P 500.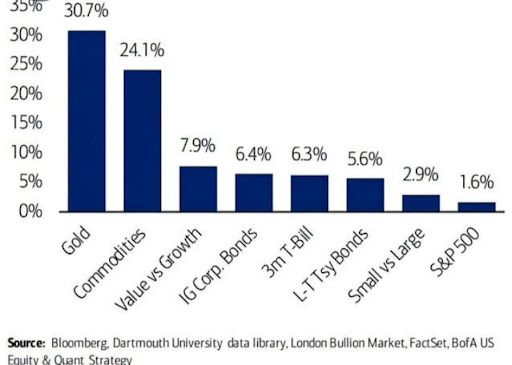 It is quite different today, as the stock market outperformed commodities by a mile. One of two things might be responsible for that. Either there is no stagflation coming, as unemployment dropped quite significantly in the recent months, or inflation is transitory.
But if inflation is not transitory, as suggested by the rising energy prices, commodities may be back in fashion sooner than many believe now.