Nikkei 225 Jumps on Japanese Prime Minister Resignation
Risk-on in Tokyo as Suga resigns. The Japanese Prime Minister Suga announced that he is not seeking reelection later in the month, opening speculations for a new approach to combat the pandemic.
The Asian session brought some interesting developments in Asia. The Japanese Prime Minister, Yoshihide Suga announced his decision not to run for reelection, literally resigning.
Nikkei 225, the Japanese index, jumped on the news and threatened to break above 30,000. The market participants view the news in a positive light because of the many critics of Suga's way of dealing with the pandemic. The contenders have announced a stimulus package worth hundreds of billions of dollars (tens of trillions of yens) to fight the pandemic. As a consequence, over 90% of the Nikkei 225 constituents jumped on the news.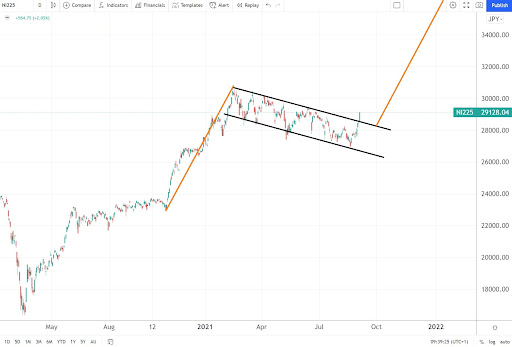 Bullish Flag Points to Further Strength
Financial markets move on economic data and political events, such as the one happening in Japan right now. Such news is enough to trigger important market moves, strong enough to trigger the breakout from a possible bullish flag pattern, as seen above.
A bullish flag is a continuation pattern and the Nikkei 225 consolidated for the entire 2021 so far. It lagged the price action in the U.S. or European markets, and the current breakout indicates that the consolidation is over.
A flag like this has a measured technical move. Traders measure the distance prior to the flag pattern and then project it from the upper edge. The measured move, showed in orange, indicates further strength in the Japanese index well beyond the 30,000 level.
The Japanese yen did not react to the news, perhaps because of the NFP report due later in the trading day. But, if the new stimulus package passes, the economic recovery in Japan should boost the local currency, too.