Long Tech Remains the Most Crowded Trade
Long tech is still the most crowded trade one year into the pandemic. Will the current risk-off sentiment alter investors' appetite for risk?
More than a year into the COVID-19 pandemic, the tech sector remains in high demand among investors. Compared to last month, investors are more bullish on the technology sector, despite the fact that it trades at sky-high valuations.
The pandemic triggered sharp changes in consumer behaviour and in the way societies function. Remote work led to increased dependency on technology, and so investors bought everything in the tech space.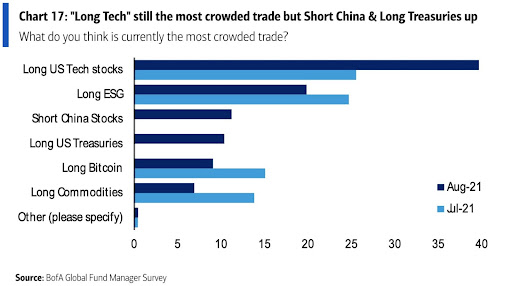 So far, markets have been in no mood for a correction. More precisely, it's been nearly 200 days since the main equity market index, the S&P 500, saw a decline of more than 5% from the highs. That may change in a blink of an eye, especially considering how crowded the long U.S. tech sector is.
In trading, the crowd is rarely right, and such positioning is often used as a contrarian indicator. For currency traders, knowing the direction of the equity markets is a gold mine because the stock market impacts the demand for safe-haven currencies.
Short China stocks and long U.S. Treasuries are the new trades this month, while the exposure to commodities and Bitcoin declined.
Larger Delta Variant Impact on GDP
Expectations mount that the Fed will announce the tapering of the asset purchases during the upcoming September meeting. Until then, investors will find out more from the Fed officials during the Jackson Hole Symposium.
The Fed may suggest that the recovery has stalled due to the Delta variant's larger impact on GDP. Make no mistake, the U.S. GDP growth is robust – but susceptible to be downgraded due to the Delta variant.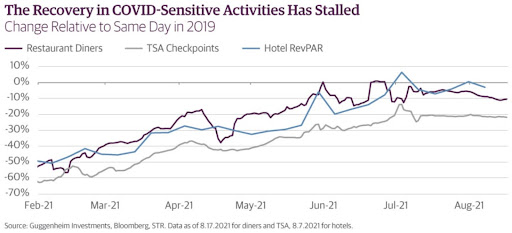 The recovery in COVID-sensitive activities has stalled recently, along with the progress of the economy. It should have dovish consequences for the policy outlook and may keep the Fed from tapering too soon.