July U.S. New Home Sales Point to Ongoing Economic Recovery
New home sales surprised to the upside in July. The number of houses sold, but not yet started, rose by 19%, the most in three months. However, lower lumber prices and higher oil prices partly offset the economic recovery.
The housing sector is one of the most important in an economy. Veteran traders surely remember that the Great Financial Crisis of 2008-2009 started from the U.S. housing sector and quickly spread to other advanced economies.
In the United States, the housing sector is closely monitored by traders wanting to interpret where the economy goes next. For this reason, various indicators are released at constant intervals, including the building permits indicator.
The new home sales number is another example. Released about 25 days after the end of the previous trading month, it shows the health of the housing sector, and it leads the economic activity because the sale of a house has an impact on other sectors.
Yesterday, the new home sales data for July came out at 708,000 vs 698,000, slightly higher than expected. A close look at the data suggests that construction will pick up, thus helping the ongoing U.S. economic recovery. The number of new homes sold but not started has increased by 19%, while the number of new homes for sale that have not been started reached a new record high. In other words, construction is most likely to pick up in the months ahead.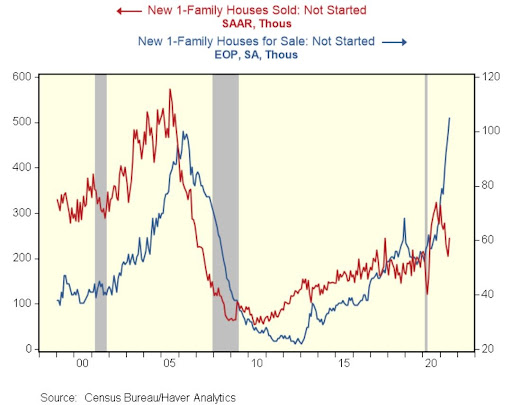 Lower Lumber Prices Suggest the Opposite
While the housing sector signals ongoing economic recovery, the decline in lumber prices and the rise in oil prices suggest the opposite. The combination is usually a bad omen for slow U.S. economic growth.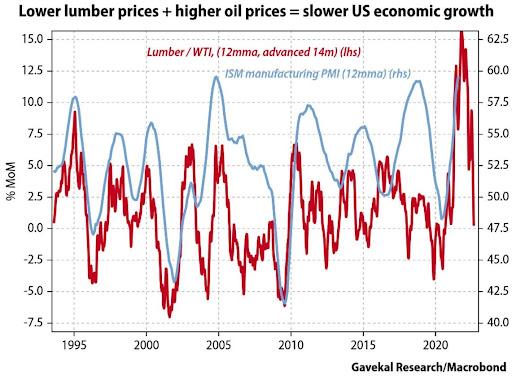 Lower lumber prices indicate weak housing activity – so, the rise in the new home sales may point to a bottom in the lumber price's decline—all in all, contradicting signals for economic growth ahead. If the price of lumber recovers some of the recent losses, it confirms that the new home sales number acts as a leading indicator of economic activity.