Japanese Stocks Reach 31-Year High as Strong Momentum Continues
The Nikkei 225 index has reached a 31-year high this week. The strong momentum continues following Prime Minister Suga's resignation. At the same time, the Japanese yen strengthens.
Exciting developments for the currency traders come from Asia. The Nikkei 225 index has reached a 31-year high this week, as the rally following the resignation of the Prime Minister Suga continues.
Suga has been viewed as mishandling the fight against the pandemic, and the new candidates promised a new fiscal stimulus. As a result, the Nikkei 225 index broke out of a possible bullish formation and made new highs.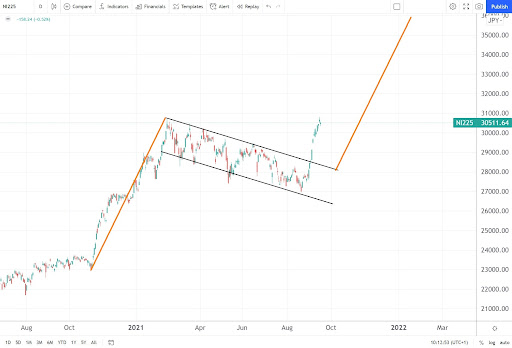 The Japanese Yen Strengthened
A rising stock market is typically associated with a weaker currency. Only, in this case, the Japanese yen did the opposite – it gained across the FX dashboard.
The USD/JPY has traded close to the 110 level for quite some time now. Many have seen the pair higher, confirming the bullishness in the Nikkei 225 index. Instead, it dropped almost 100 pips yesterday.
The Japanese yen also rallied against the euro. As a result, the EUR/JPY fell from 130, in a similar decline with the USD/JPY pair.
One of the Japanese yen's characteristics is that it rallies on market declines. For example, weakness in the U.S. equity markets usually triggers a bullish reaction in the Japanese yen because investors perceive the Japanese currency as a safe haven. The Swiss franc is another safe-haven currency. Therefore, the Japanese yen's correlation with the U.S. stock market rather than the Japanese stock market is a curious divergence.
The timing of the move higher is also interesting. As financial markets' activity intensifies after the summer months, the Japanese yen's strength may signal fears of a market selloff.
The big question is: which equity market, the U.S. or the Japanese one?