Jackson Hole Symposium – The Highlight of the Trading Week Ahead
The Jackson Hole Symposium is scheduled to start this week. Investors await the Fed's message regarding the tapering of its asset purchases program.
The most important trading week of the summer started today. The Fed hosts this week the Jackson Hole Symposium and, as always, it will be a landmark event.
In the past, the Fed used the Jackson Hole Symposium to make some bold announcements. Not always, but most of the time, the statement from the symposium moves markets.
Last year, for example, the Fed announced that it is shifting its mandate from targeting a fixed rate of 2% to averaging 2%. The new AIT – Average Inflation Targeting – surprised the market participants to such an extent that the dollar declined abruptly. Traders surely remember that the weak dollar was the main theme in 2020 as central banks around the world followed the Fed's lead and eased the monetary policy aggressively.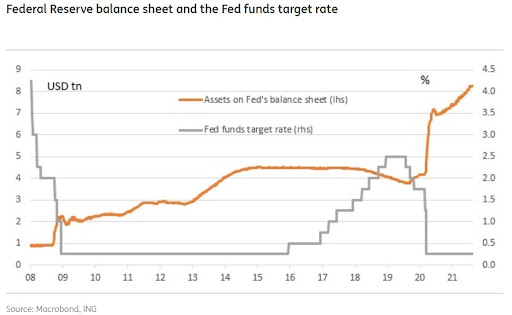 What to Expect from the Jackson Hole Symposium?
The U.S. economy recovered most of the lost ground during the pandemic. Helped by both monetary and fiscal stimulus, the economy bounced back, creating new jobs and leading the advanced world.
Because the U.S. is the largest economy in the world, the spillover to global GDP is expected to exceed 1% in 2021. Therefore, what happens in the United States and with the United States policy is important for global growth.
Jobs recovered, inflation is high, but the Fed is on hold. The Fed funds rate is close to its lower boundary, as seen in the chart above, while the assets on the Fed's balance sheet keep rising.
The gap between the two is on investors' minds – will the Fed use the Jackson Hole Symposium to officially announce the end of the asset purchases? Some investors believe it will.