IMF Revises Global Growth Projection for 2021 to 5.9%
The World Economic Outlook report released this week revises down the global growth projection for 2021. The global economy is forecast to grow by 5.9% in 2021 and 4.9% in 2022, led by the United States economy.
One of the most respected reports for global financial markets is the World Economic Outlook report released by the International Monetary Fund (IMF). The report covers the state of the global economy, outlines the challenges ahead, and delivers a forecast for economic growth in the period ahead.
Released quarterly, the report downgraded the global growth projections slightly for 2021. The IMF sees the global economy to rise by 5.9% in 2021 and by 4.9% in 2022.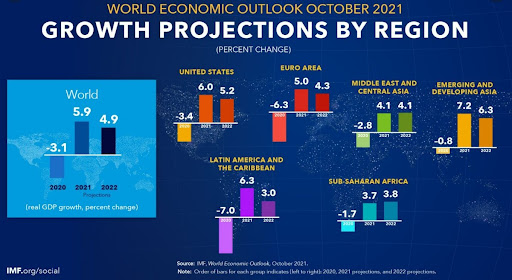 Impressive U.S. Economic Recovery
In the developed world, the U.S. economy leads the way. It is forecast to grow by 6% in 2021, followed by another 5.2% in 2022. No other developed economy will grow so much, and thus the bias is that the U.S. dollar will remain well bid in the period ahead. Strong economic growth means strong oil demand, and because the U.S. economy is growing into an energy powerhouse, the U.S. dollar should benefit.
The Euro area recovery continues in 2022 when growth is expected to reach 4.3%. However, let's compare the two regions, the United States and the Euro area. We see that the Euro area economy contracted more during the pandemic than the United States economy did. Hence, the gap between the two is larger than the numbers imply.
One interesting aspect highlighted in the report is that inflation expectations appeared contained across most economies. Inflation is the reason why the stock market rallied this week after the September data showed inflation remains sticky but cooled off a bit. The confirmation in the IMF report may also have contributed to the stock market rally.