Hawkish Line from BOE Sends the Pound Soaring
The British pound soars across the board after the latest Bank of England (BOE) meeting. The Monetary Policy Committee suggests modest tightening lies ahead.
One of the central banks that delivered their monetary policy decisions this week was the Bank of England. Yesterday, the Monetary Policy Committee took the market by surprise and delivered a hawkish line, stating that developments since the last meeting have strengthened, and there is a case for some modest tightening in the period ahead.
Currency traders should not be surprised because the BOE is known for closely following the developments in the U.S. monetary policy. Since the Fed announced that the economy improved and, as a result, the tapering of its asset purchases comes closer, the BOE announcement follows the same line of thinking.
Moreover, inflation in the United Kingdom is well above the target. It runs at 3.2% annually, when the central bank has a target of 2%. Therefore, the BOE announcement is not out of context but a consequence of the recent economic data.

BOE Hawkish Surprise Boosts the British Pound
The British pound reacted immediately to the hawkish statement. The GBP/USD, for example, bounced from its lows made during the Fed's decision one day earlier and rallied over 150 pips. If the exchange rate manages to close the week above 1.38, further upside is possible in the week ahead.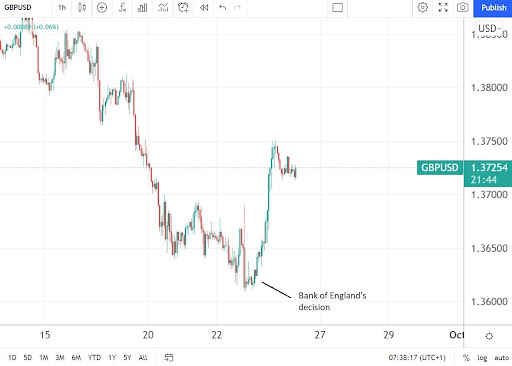 Moreover, the EUR/GBP confirmed the pound's strength, as it dropped from 0.86 and threatened to break the recent lows. Ahead of an important weekend in Europe, as the German federal elections are due on Sunday, investors bought the British pound on hawkish BOE message and sold the euro.