Hawkish Fed Sticks to the Plan, Tapering Starts Soon
The Federal Reserve of the United States (Fed) to announce QE tapering in November. Jerome Powell delivered a hawkish press conference, triggering a U.S. dollar rally.
The much-awaited Fed meeting ended yesterday with a hawkish message. When a central bank tightens or prepares to tighten monetary conditions, it is said that it delivers a hawkish message – the equivalent of "bullish" for traders.
Yesterday's Fed message was, indeed, hawkish. It respected the plan, signalling that an announcement for reducing the asset purchases (i.e., QE) will come in November, while the actual tapering commences in December. By next June-July, QE tapering will have been completed.
In a rare move, Jerome Powell, the Fed's chair, shared his personal view. He stated that progress in the labour market is "all but met" and that all he needs to see is a decent jobs report, not a very strong one. So, basically, the next checkpoint for the U.S. dollar traders and the stock market is the NFP report scheduled two Fridays from now.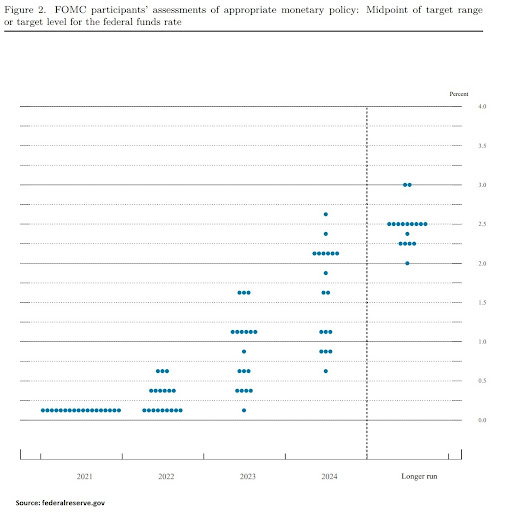 How Did the Dollar React?
Traders bought the U.S. dollar during the Fed's press conference. The dot plot, as seen above, shows no rate hikes in 2021, but several FOMC members see the case for higher federal funds rates already in 2022.
The EUR/USD, the most important currency pair, dropped from 1.1750 to 1.1680 during the press conference, and similar market moves were seen across the FX dashboard. However, the bullish momentum for the dollar faded soon after the press conference ended, as the stock market was unphased by the hawkish Fed. Higher equity markets typically put pressure on the dollar, and yesterday was no different.
Even today, at London's opening, the U.S. equity market futures are positive, up to half a percentage point. The overnight move sparked a move lower for the U.S. dollar, and the EUR/USD pair traded back above the 1.1720 area.
Nevertheless, the Fed delivered a hawkish message. It is up to the market participants to interpret and react to it.