Gold Price Bounces from Its Recent Flash-Crash, Falling Yields Help
Gold recovered the lost ground from the start of the trading month and now threatens to break even higher. Not even the weak retail data in the United States was enough to send gold lower. Can it be the reason why buyers remain interested in the yellow metal?
In the first part of the trading month, the gold price collapsed. It met stiff resistance above $1,800 and, in the course of a couple of days, it fell below $1,700.
Whenever a market declines abruptly, it is said that a "flash-crash" happened. Currency traders are more familiar with flash crashes, as seen in the aftermath of the Swiss National Bank dropping the 1.20 floor on the EUR/CHF in 2015 or the Brexit vote.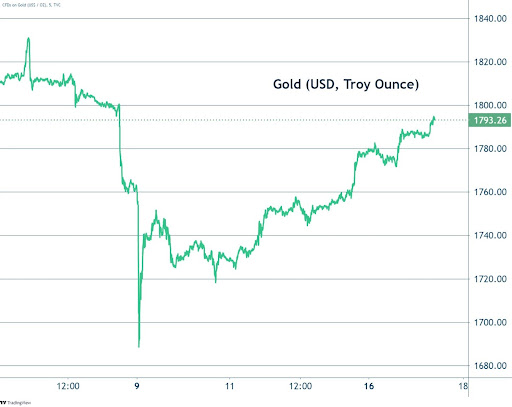 Such sudden market moves typically happen in a low liquidity environment. The Asian session is characterised by low liquidity – and that is the session when the price of gold flash-crashed in August.
Nevertheless, it bounced from the lows, but not because of investors stepping in to buy gold as a hedge against inflation. Rather, it was because of the U.S. 10-year Treasury yields that kept falling.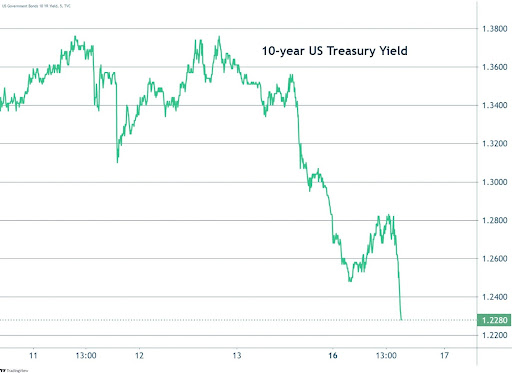 Weak Economic Data Supports a More Accommodative Fed
The price of gold and the U.S. 10-year Treasury yield have an inverse correlation. More precisely, when the yields fall, gold rises, and the other way around.
We may say that the yields lead the price action in gold.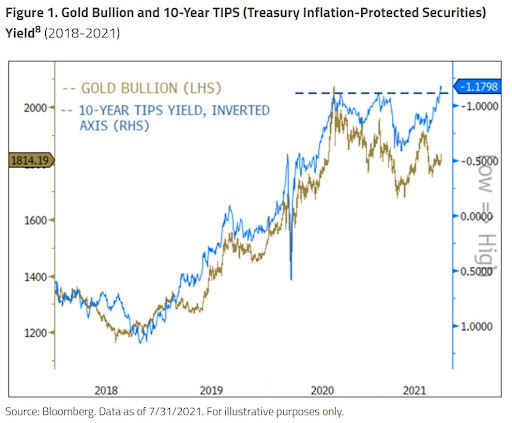 Weaker economic data in the United States supports a more accommodative Fed. As such, investors bet that the Fed will keep the printing presses running, buying bonds, and thus triggering a move lower in yields. Bonds and yields also have an inverse correlation.
Therefore, the move higher in the price of gold may have nothing to do with inflation but with poor economic data. The worse the data, the lower the yields, so more buyers will purchase gold.