Gold Miners Reach Oversold Territory – Time To Buy Gold?
Gold defies the risk-on rally and remains under pressure, unable to hold above $1,800. Gold miners have reached oversold territory in the meantime – time to go long on gold?
All brokerage houses offer traders the possibility to speculate and invest in the gold market. Commodities are common among FX brokers, as they serve traders by offering the possibility to hedge against inflation and, why not, partially hedge against open positions.
A full hedge means that the trader can take the opposite of the same trade without any restrictions. But, not all brokers allow hedging, viewed by many as too risky for the retail trader.
For this reason, traders using a broker that does not allow hedging may use partial hedging. Effectively, it means trading correlated markets to offset the exposure in other markets.
Take the gold miners, for example. Gold miners are companies exploiting gold reserves, and their price tends to be correlated with the gold price. Just as the price of gold, gold miners are also down on the year. However, they reached oversold territory, as indicated by one popular technical indicator – the Relative Strength Index, also known as the RSI.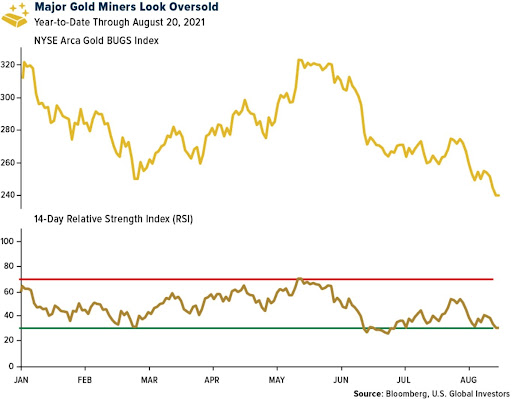 Gold Miners' RSI Reaches Oversold Territory
The New York Stock Exchange (NYSE) Arca Gold BUGS Index is a dollar-weighted index of companies involved in gold mining. This is one of the most-watched gold indices in the world – and it recently reached oversold territory, as measured by the RSI.
The RSI is often used by traders to spot divergences between the price and the oscillator. A bullish divergence forms when the market keeps falling, while the RSI does not make new lows anymore.
Based on the chart above, a bullish divergence formed in the last couple of months. Could it be that it signals a bounce in the price of gold?