Global Equity Markets Supported by Lower Bond Yields
Central banks intentionally fall behind the curve and are slower to respond to higher inflation rates. Keeping the real rates negative creates a positive environment for risk assets, such as the equity markets.
July was characterised by market swings on various concerns – inflation, virus fears, oil supply/demand imbalances, etc. The two major central banks in the world, the European Central Bank and the Federal Reserve, delivered a dovish statement this month.
This is surprising for at least a couple of reasons. One is inflation running hot in both Europe and the United States, and another is the strong employment data in the United States.
In other words, reasons exist for the policies to tighten – only that they did not. Hence, one can conclude that central banks respond slowly to the rise in inflation to keep nominal bond yields depressed and real rates negative. This results in a bullish environment for risk assets.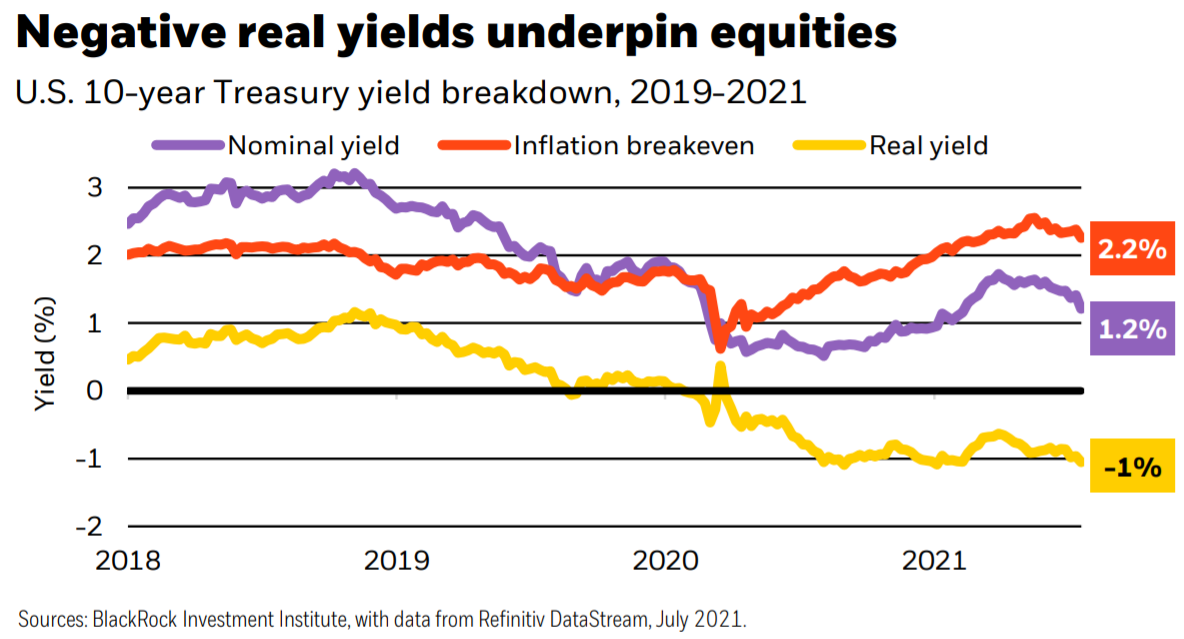 Uncertain Virus Dynamics Warrant Loose Monetary Conditions
The economic restart is real, and the only thing that keeps central banks from tapering and then tightening is the ongoing COVID-19 pandemic. Vaccination efforts in the developed world have led to many countries reaching levels close to herd immunity.
In Spain, for instance, over 25 million people are fully vaccinated. However, more needs to be done as the virus mutates fast. The Delta variant is a concern for global growth, as pointed out by the latest World Economic Outlook released by the International Monetary Fund.
Faced with such uncertainties, investors are "directed" toward the stock market. Negative real yields are unattractive, and so the appetite for risk assets remains elevated. On top of that, the earning season started very well in the United States.
One thing appears to be common in central banking in advanced economies. Central banks attempt in various ways to overshoot inflation targets. After all, in normal times, they had a hard time bringing inflation to the target. Now that inflationary pressures mount around the globe, central banks are in no hurry to remove the stimulus, as they did in the past.
As long as such conditions remain in place, risk assets (i.e., global equity markets) will keep finding buyers. Risk-on is likely to persist in the upcoming months.