FOMC Minutes To Prepare Investor for the Upcoming Tapering
Investors await the FOMC Minutes on Wednesday for further clues regarding the Fed's tapering of the asset purchases. Inflation in the United States is released on the same day.
The new trading week starts with a holiday in the United States – Columbus Day. It means that banks are closed, so the volatility in financial markets will be subdued.
Starting with Tuesday, investors will begin preparing for the inflation release due out this week. Fed's Bostic speaks on inflation at Peterson Institute, one day ahead of the actual Consumer Price Index (CPI) release.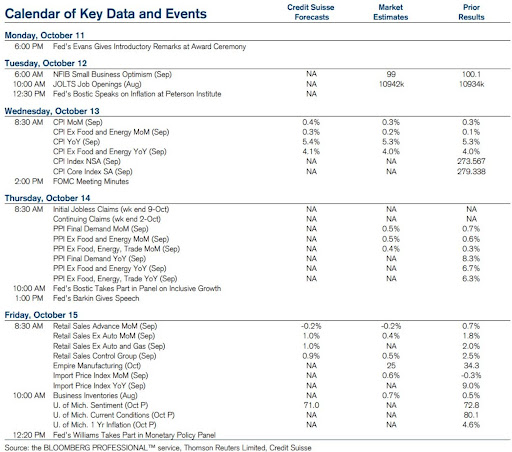 Investors expect the Core CPI data to have increased by 0.2% in September and the CPI YoY to stay at similar levels as last month, at 5.3%. However, some forecasts, such as the ones released by Credit Suisse, see the annual inflation at +5.4%.
FOMC Minutes – The Highlights of the Trading Week Ahead
Besides inflation, the FOMC Minutes will be closely monitored by financial market participants. The Fed needed to see decent jobs report for September, and the verdict is mixed. On the one hand, the U.S. economy added fewer jobs than the market expected in September. On the other hand, the unemployment rate dropped further, falling to 4.8% from the previous 5.2%.
In other words, despite the somehow weak headline, the jobs report was not so bad after a close look at the details. Therefore, the Fed's tapering announcement at the November meeting is very much on the table, and the Fed members due to speak this week may offer further clues as to what the Fed will do next.