FOMC Meeting, US GDP, Core PCE – Key Events in the Week Ahead
The week ahead is critical for the US dollar. Starting on Wednesday, the financial markets' volatility depends on how the Fed sees inflation and chooses to communicate its intentions at the press conference.
The European Central Bank's interest rate decision and press conference were the highlights of the previous trading week. Yet, the impact on the currency market was non-existent.
One of the explanations comes from the essential events that lie ahead. No one wanted to be exposed ahead of what might be the most important trading week for the US dollar until the Jackson Hole Symposium in August.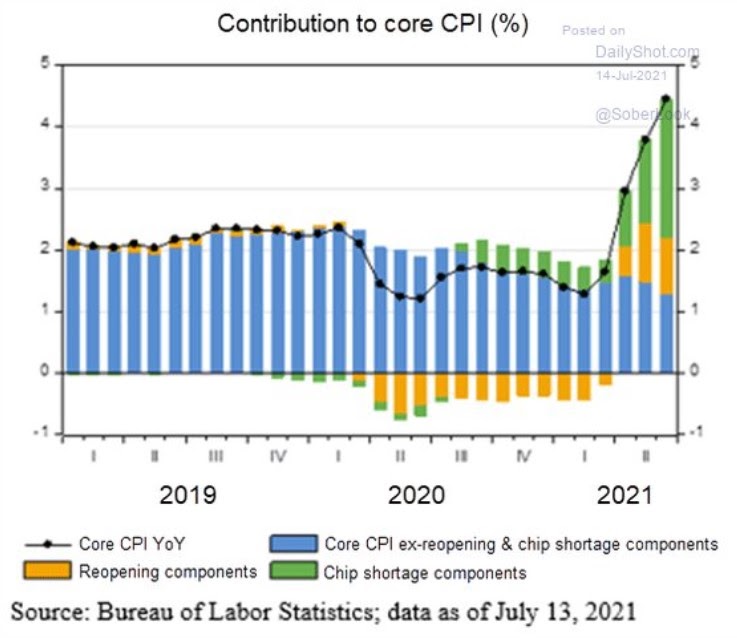 US CPI – Once Again in Focus
The week ahead is full of crucial US data. In particular, three events will severely impact financial markets – the Federal Open Market Committee (FOMC) statement and press conference, the US advance GDP, and the all-important inflation data, as reported by the Core PCE Index on Friday.
Out of the three, inflation is likely to dominate headlines this week. Because the Fed has a dual mandate – price stability and jobs creation – most of the focus on the upcoming FOMC meeting will be on how the Fed sees inflation (i.e., transitory or not).
No one expects the Fed to announce the tapering of the asset purchases at this week's meeting. Instead, the market expectations are that the Fed will do so in December, and the tapering is effectively to start in January next year.
As for the US advance GDP data, due to be released on Thursday, the bias is that the actual will beat the 8.5% forecast. Based on the economic data seen in the second quarter, the chances are that the US economy grew at a faster pace.
Although the FOMC statement and the US advance GDP are critical for the US dollar, this week's focus is on the core PCE index. Released on Friday, the Core PCE Index is the Fed's favourite way of measuring inflation.
As such, there should be a lot of comments about inflation and inflation expectations this week, both from market participants and from the Fed's officials. Inflation is still likely to be considered a temporary phenomenon by the Fed – but the market participants may have a different opinion, especially if Friday's data comes out substantially higher than the +0.6% forecast for the month.