Financial Markets in Risk-Off Mode Triggered By Evergrande's Bankruptcy
The Evergrande Group faces bankruptcy, and the situation possesses a systemic risk to the Chinese economy. One day ahead of the Federal Reserve meeting, fears of contagion in Europe and the United States are growing. Investors bought safe-haven currencies.
News from China affects international financial markets and triggered a risk-off sentiment at the start of the trading week. The Evergrande Group, a Chinese real-estate developer, is in financial trouble and cannot pay its creditors.
It is a big business with over $100 billion in sales in 2020 and has over 1,300 projects across 280 cities. A disorderly collapse would affect the Chinese economy, and fears mount that such an event would spread to the Western world too.
Evergrande's debt is estimated at $300 billion, the equivalent of the Chinese GDP. The company employs over 200,000 people and has more than 8,000 upstream and downstream business partners. It has been on a selling spree lately, giving away its assets at a 30%-40% discount only to raise liquidity for interest payments.
Bankruptcy looms large.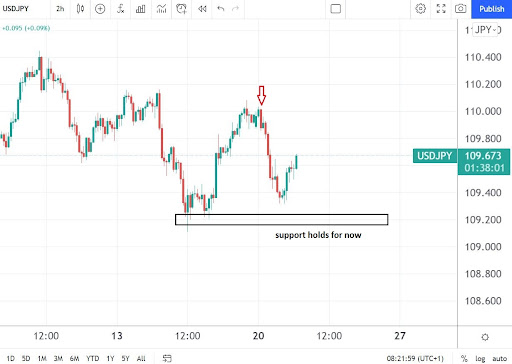 Safe-Haven Currencies in Demand as Stocks Drop
The Evergrande story was known to financial markets last week, but only yesterday it triggered a reaction in the Western world financial markets. Another real estate developer, Sinic, has traded 88% lower in Hong Kong trading hours, leading to a sharp decline in risky assets in Europe and the United States.
As a result, the safe-haven currencies were in strong demand at the start of the trading week. Accordingly, investors bought the Japanese yen and the Swiss franc, but also the U.S. dollar.
The markets look for direction ahead of the Federal Reserve of the United States decision and rate hikes projections. Should the risk-off sentiment continue today, the Fed will be under pressure to postpone the tapering of its asset purchases to avoid contagion from the Chinese real estate market problems.
Veteran investors still remember that the 2008 financial crisis started from the U.S. household market under similar circumstances.